Marysville store wins environmental award from the Kimberley Chamber of Commerce
Root For Me helps folks live a greener lifestyle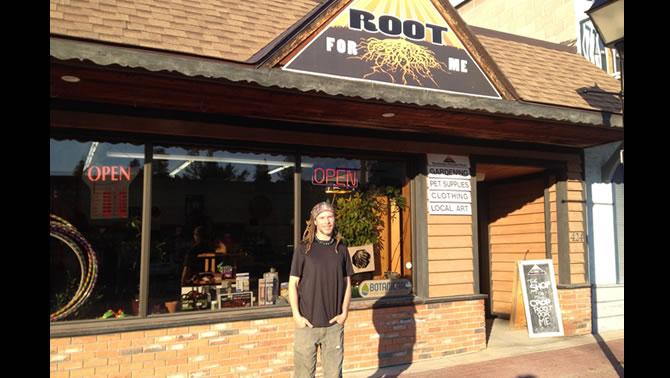 This year's Environmental Stewardship Excellence Award was given to Root For Me by the Kimberley Chamber of Commerce at its October event.
Root For Me is a small family business located at 424 - 304th Street and owned by Alan Bowler.
The store is all about the green Kootenay lifestyle. The products sold range from those that allow you to grow your own food to pet food to what you wear or give as gifts. According to Bowler, this diversity of products is "imperative" to the success of the store, now in its third year.
Gardening is the core of the store. "Gardening is a challenge with the shorter season in the Kootenay mountains, and we like to offer professional advice and products that help make the most of your summer and winter months," said Bowler.
One of the store's most popular products is its own soil mix that is made on-site. Many of the ingredients are from Gaia Green Products in Grand Forks, and the soil mix is full of great things like worm castings, bat guano and glacial rock dust. "I take it to the next level," said Bowler. Crops grow so well that word of mouth brings in gardeners from all over to purchase it.
"In our store, we generally have a 'live' display in the works," said Eliesha Tobin, Bowler's wife. "We currently have a display with a tent/light setup with peppers, kale and strawberries growing in the store. Last season, we had an aquaponics system setup growing lettuce, carrots and strawberries.
"Eating fresh all year round can be easy and doesn't need to take a lot of space—a small strip light under the cupboards at home can produce fresh greens throughout the winter, or even a simple jar of sprouts growing on the windowsill produces fresh sprouts in a matter of a few days."
Other green merchandise in the store includes Holistic Blend, a Canadian-made pet food that is corn-, wheat- and soy-free; and a good selection of natural fibre clothing made from hemp, bamboo and organic cotton blends.
"We also try to reuse where possible and even have clients return used pots and grain sack bags for reuse," said Tobin.