In with the old
Revival Boutique in Rossland has fresh recycling ideas and quality clothing and accessories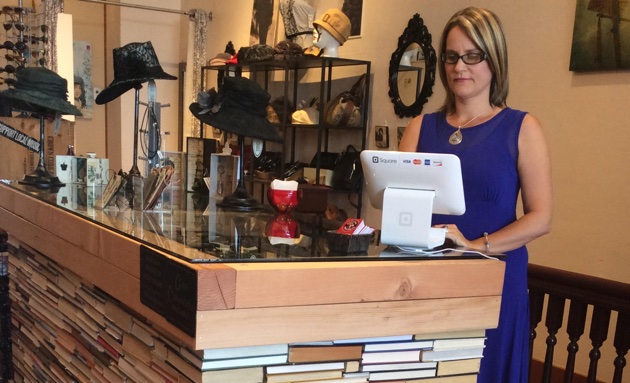 A new resale boutique in downtown Rossland takes its recycling theme seriously. The front desk at Revival Boutique has been created from repurposed books from the landfill-bound trash at three local libraries. Owner Zabrina Nelson explained that her husband used industrial glue to form the books into a desk.
"I used old doors and sprinkler pipe to build the clothing racks," said Nelson. "All of the free-standing racks were purchased second-hand as well as all of the furniture in the store."
The Columbia Avenue boutique collects vintage and retro styles, providing an eclectic mix of old and new clothing, including high-end brand names. Accessories such as jewelry and Lillie & Cohoe hats made in Nelson, B.C., are sold, and the man cave with men's merchandise is appropriately located in the basement.
There are no consignments—you receive cash up front for your items. And instead of taking cash for your clothing, you can donate it to one of three organizations that the boutique supports: the Youth Action Network in Rossland, Equine Assisted Therapy in Trail and the FAIR Society in Trail. The store will give 50 per cent of the sale price to the organization of your choice.
The grand opening on August 3rd was a huge success, according to Nelson.
"People loved that the concept of the store was around recycling, and we had many compliments," said Nelson. "I want this store to help lessen the waste in our community."