Greening your infrastructure pays off
Emco supplied the Fernie Best Western with heating and piping systems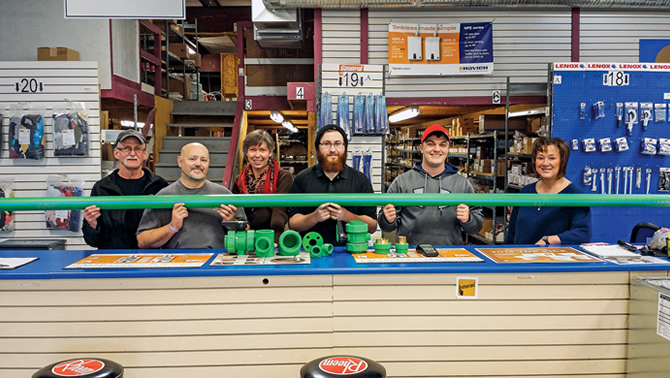 When you upgrade infrastructure in your home or business, you might as well do it right. And what's right is good for your wallet and the planet.
When the Best Western Plus Fernie Mountain Lodge was faced with a heating system that was aging and leaking, they turned to Emco Corporation in Cranbrook for help.
When Emco came on site, the team recommended a high-efficiency domestic hot water boiler system as well as eco-friendly piping.
And the story ended happily.
But here are the details.
Although Emco as a company is over 100 years old, it has kept up with the times by providing "green" solutions that make infrastructure both more energy efficient and environmentally benign. It is one of Canada's largest distributors of products for the construction industry.
"Almost daily we are providing products and solutions that have a positive environmental impact," said manager Justin Giroux, who calls himself the team coach at Emco Cranbrook.
That includes everything from high-efficiency toilets and faucets that use less water to tankless hot water systems that burn less fuel.
The results at the Fernie Best Western speak for themselves. "The Best Western will save on heating costs, on an annual basis, up to 20 per cent or more," said Giroux. That's because the boiler system from Heat Transfer Products reduces the burning of fossil fuels by 15 to 20 per cent.
During its production, the Aquatherm piping system uses one-quarter of the electricity required to make copper piping. But more importantly, the Aquatherm pipes give the hotel the cleanest hot water possible because the pipes are hydrophobic. They leach zero chemicals and contain no VOCs, chlorides, heavy metals or BPAs.
Aquatherm Green Pipes are also highly resistant to abrasion and erosion caused by hard water and sediment, unlike copper piping that can develop leaks at shoulder joints from turbulent hard water pitting.
"Aquatherm has proved itself as a superior product in many applications," Giroux said, "and Emco is the No. 1 supplier of this product."
With the energy-efficient upgrades, the Best Western received thousands of dollars in rebates from Fortis BC. The hotel relied on DT Mechanical Systems of Fernie for the professional installation of the Emco products.
Giroux stays busy helping his team deliver green. "Emco just recently received a request for a solar hot water system, something that works well in our sunny climate," he said.