EarthWear is all about skin care . . . naturally
Be aware of what products you put on your body every day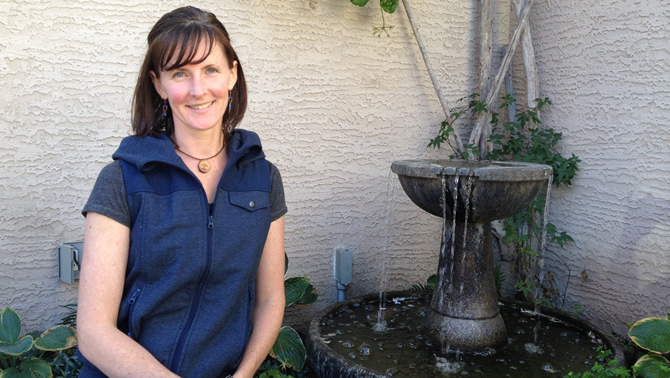 Here's a quick quiz for you. On an average day, how many skin care products do you use?
The average person lathers, slathers, rubs or sprays on 10 products each day. What does this potpourri of ingredients do to us? We know that many cosmetic products contain toxic synthetic chemicals.
Tammy Bessant of Cranbrook had a cut that was not healing, and after testing, it was found to be skin cancer. That started her on a 13-year journey that brings us to her successful face and body care company—EarthWear.
"I started making products for myself because I was having a hard time finding skin products that were truly 'natural,' " said Bessant, explaining that many products claimed to be natural but were far from it.
Her business has grown organically, from selling to friends and strangers, to selling at farmers markets and health food stores. Through encouragement from her customers—"Why don't you make a natural sunscreen?"—she has tested and developed a full line of body care products.
Today, she sells 30 products, and every one is made by hand, from scratch, in small batches, with all-natural ingredients, in her kitchen. There are no chemicals, no toxic ingredients, no artificial colour or fragrance, and no preservatives in her products.

Instead, Bessant's products contain natural ingredients that have healing properties and can enhance the skin's natural functioning. These include aloe vera juice, and almond or evening primrose oils.
EarthWear's top three sellers are Rejuvenating Face Lotion, Duck Spray (a bug dope available seasonally) and Delicate Petals Eye Satin.
With the holidays approaching, Bessant now has sage green gift boxes made of recycled material. Her suggested box stuffers include Peppermint Body Sugar, bath salts and teas, an Avocado Body Bar, Sole Butter or a T-shirt with the saying "You are beautiful . . . naturally."
EarthWear products are registered with Health Canada's Cosmetics Program, whose mandate is "to protect the health of Canadians by minimizing the risk associated with the use of cosmetics marketed in Canada."
These wonderfully green face and body products can be purchased at some Kootenay health food stores, through Bessant's website or on Etsy.
Bessant's advice is simple: "Buy your skin care (products) like you buy your food," she said. "Don't buy something you won't eat."