This Golden physiotherapist put her dreams into motion
Marie-Michelle Lafontaine let nothing break her stride when she started Glacier PhysioLab in Golden, B.C.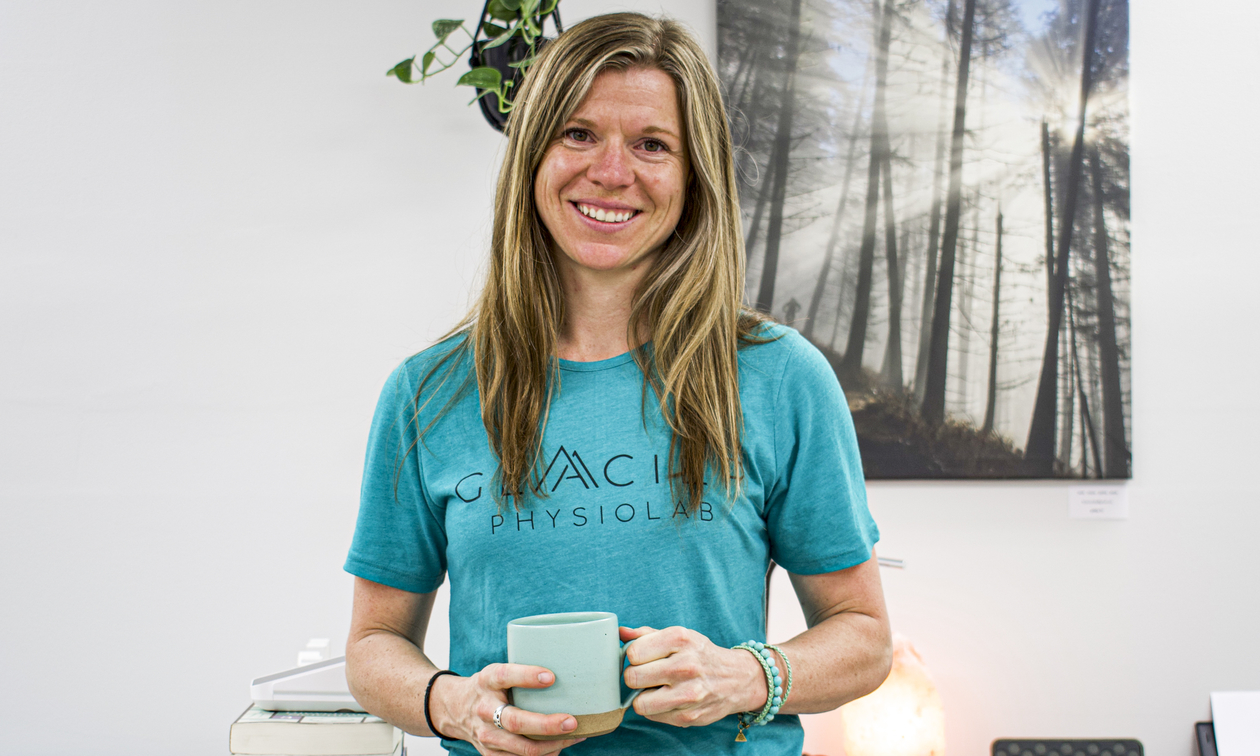 Marie-Michelle Lafontaine is an accomplished physiotherapist and the founder of Glacier PhysioLab in Golden. Her clinic offers an array of services, including rehabilitation, dry needling, bike fitting, running analysis, manual therapy and hand therapy, to name a few.
Starting a clinic during a global pandemic is not for the faint of heart, but Lafontaine did exactly that—and she took all the challenges that came with it in stride.
We love hearing success stories, so we reached out to Lafontaine for more details.
How did you reach the decision to start a physiotherapy clinic?
I have been a physiotherapist for 10 years, and I wanted to carve out my own practice and be my own boss. I wanted a new challenge—creating a space where people can learn about their bodies and getting them back doing what they love most.
What attracted you to Golden, and how long have you lived there?
I moved to Golden six years ago for the mountain lifestyle. I love outdoor adventures, and I decided to make Golden my basecamp. Over the years, I discovered in the valley of these stunning mountains the tight and welcoming community that made me want to settle down.
What are some of the most common injuries you see at your clinic?
I see mostly sports injuries from recreational mountain athletes, as we have a very active population in Golden. In the summer we see a lot of mountain biking injuries, and ski injuries in the winter.
We have a specialty in bike fitting and running assessment, as we believe in preventative care. I also offer hand therapy treatments, for which I got extra training at the University of California. This can help a lot of climbers and other patients in the area, post-injury or post-surgery.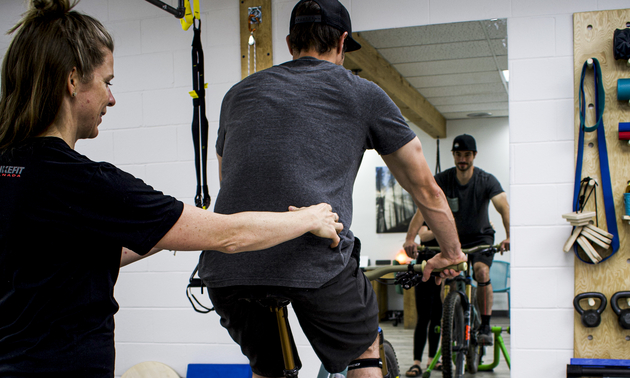 Bike-fitting is a new service offered at Glacier PhysioLab.
- Catheryne Bosse photo
What are your business plans for the future?
I want the clinic to become the reference on physiotherapy treatments for mountain recreationalists. I would love to grow my team and help heal as many people as I can in Golden and in the Columbia Valley.
We will be welcoming a new physiotherapist in the fall of 2021. Isabelle Chaumont has a background in kinesiology and massage therapy and is now a sport physiotherapist.
What has been your biggest victory as a business owner?
Since I am a new entrepreneur, so far my greatest victory has been to succeed in opening my own clinic during a global pandemic. I feel so grateful to have received the help of so many friends and supporting actors in the community.
We also succeeded in developing a new service—bike fitting—in collaboration with Aaron Kadikoff, the lead bike mechanic at Selkirk Ski and Bike. This kind of physio–bike mechanic collaboration is completely new in town.
Briefly, we adjust the mountain, road or gravel bike to the patient's unique anatomy. It is so fun to be able to do it with a bike mechanic, and it's kind of a dream team for the amateur cyclist. This helps increase comfort and performance, and reduce pain and risks of injuries. So far the response and satisfaction of the patients have been amazing. We are so pleased to be able to serve local cyclists, as it is our passion too.