Secluded in a mountain paradise
Treat yourself to fine dining or stay in one of the cozy accommodations offered at the Cedar House Restaurants and Chalets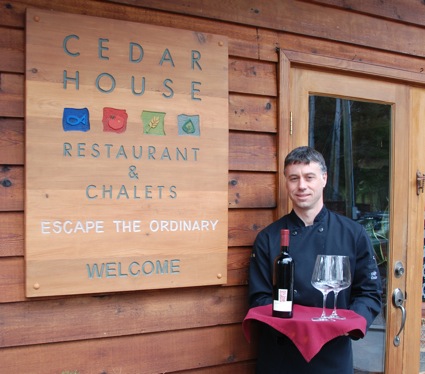 If you're looking for a place in Golden to get an exquisite evening meal and a place to stay for a few days, look no further than the Cedar House Restaurant and Chalets. The restaurant and chalets sit on the valley side opposite Kicking Horse Mountain Resort, and patrons can be treated to stunning views of the mountains while strolling around brick pathways.
The restaurant prides itself on using local, free-range and sustainable products. Roughly 50 per cent of the produce used in the menu is provided on site through an organic garden maintained by staff in the spring and summer.
Situated on secluded slopes just outside town, the restaurant and chalets exude an air of privacy that one craves when trying to escape civilization.
Three chalets are available for bookings; each one has its own unique character and space.
The Adventure Chalet is a cozy 480-square-foot structure, which sounds small, but it's perfect as a romantic getaway for couples or as a place for small families to stay during their Golden vacation. A wood-burning fireplace, a kitchen with all amenities, a bathroom, a den and a master bed in the loft are all designed to maximize the space and create an intimate atmosphere. Soak in the hot tub outside on the deck or fire up the gas barbecue and do some grilling.
Bigger groups can book the Cedar Chalet or the newest addition—the Green Chalet—which feature most of the same amenities, including hot tubs.
With the sustainability in mind, the Green Chalet was designed and built in over the 2010 winter and sleeps up to 12 people. The roof collects rainwater, which is stored and used for irrigating the grounds, and a hybrid passive/active system heats and cools the building.
The whole experience of dining at the restaurant and staying in one of the chalets is designed to make people feel like they're pampered, said Darrin DeRosa, owner of Cedar House Restaurants and Chalets.
"People really love the atmosphere here and the ambience," he said. "It's just a really warm feeling."
DeRosa bought the Cedar House Restaurant three years ago and decided to add to the operation by building chalets as a classier substitute for cabins. He has years of experience in the hospitality industry, working as a guide and all-around manager with Purcell Mountain Lodge, a wilderness lodge in the Purcell range. His time spent with the lodge taught DeRosa the value of crafting an experience to exceed customers' expectations, and this is the mindset he used when taking over operations at Cedar House Restaurant and building the chalets.
"That's what I'm proud of—seeing (the customers) drive away being blown away by their stay or experience," DeRosa said.