Little Mittens Animal Rescue in Golden, B.C. keeps strays off the streets
This rescue shelter lends a paw to animals in need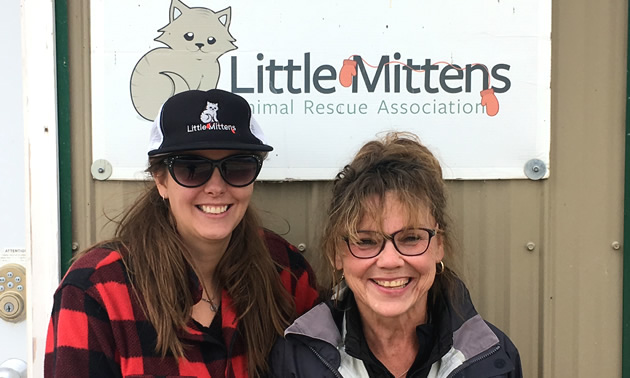 Where there's a will, there's a way, and that's how Little Mittens Animal Rescue Association is implementing change in the community of Golden, B.C.
Due to an increasing transient population in Golden, more animals than ever are being abandoned or surrendered–especially cats. The more cats being forced onto the streets, the steeper the rise in feral cats and kittens causing trouble in popular areas and on private properties.
In 2009, executive director Alannah Knapp and co-founder Diane Slater, accompanied by a team of volunteers, began working tirelessly to help deal with the increasing number of cats in their town.
The beginning of something great
"I moved out to Golden after finishing school (the Fish and Wildlife program at Sir Sandford Fleming College). I noticed there were kittens and feral cats all over Golden so I started picking them up off the streets and looking for homes for them," Knapp said.
She had heard from other residents that Slater was doing the same, so Knapp reached out. The duo started a larger-scale rescue operation shortly after.
"We had my husband build us a mini shelter in Diane's garage; we also looked after kittens at our house," Knapp said. "Once we realized we needed more funding, I filed all the paperwork to become a non-profit organization."
In 2011, the town recognized what they were doing and gave the team a small building to operate from. Little Mittens later applied for a grant to build a second storey.
Knapp realized there was also need for a local shelter that could rescue wildlife. She and the current president of the board, Nicole Gangnon (who also took Fish and Wildlife studies), underwent B.C.'s provincial wildlife rehabilitator exam, worked many hours with local wildlife and had the Little Mittens facility inspected.
Both passed the exam and are licensed wildlife rehabilitators. The Little Mittens facility received its wildlife permits in the fall of 2017.
The present and future
The association uses a "trap, neuter, return" program to reduce the number of cats that would otherwise be in Golden's near future. Each female feral cat can have between five and 30 kittens a year, starting at about four months old.
The mission of Little Mittens is to provide shelter and care for animals of all sizes, and to find homes for them. Staff work to prevent the spread of diseases and to reduce the loss of wildlife in and around Golden (of birds in particular). They hope to continue to rescue, rehabilitate and release small wild animals back into the wild.
"Little Mittens currently rescues all small wildlife like birds, squirrels, waterfowl and skunks," said Knapp. "A few birds of prey come in too."
A bald eagle recently found herself in the loving care of Little Mittens.
"We took her down to Invermere where they did surgery . . . and worked to rehabilitate her," Knapp said. "We then released her here in Golden."
The rescue association is currently working to acquire an eight-hectare (20 acre) parcel of land that will enable it to house and help more furry and feathered creatures.
"My favourite part about Little Mittens is the wonderful, dedicated team of hardworking volunteers we have, who really love and are all-in for the animals," said Knapp. "In the future, I hope Little Mittens can continue to grow and help as many animals, both domestic and wild, as possible.
The association currently runs adoption and foster programs for cats, dogs and rabbits. To learn how you can help and support their mission, visit the Little Mittens website. If you know of any animal that could use their help, call (250) 939-8085.