Innovative development part of revitalizing Golden's downtown
The Oso development will be a vibrant mix of residential, commercial and tourist uses all wrapped up in an eco-friendly building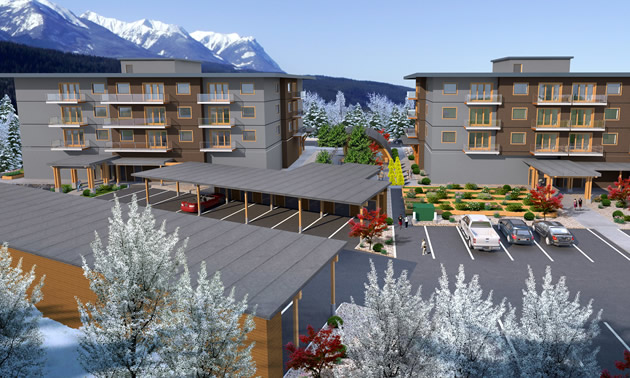 Oso, the word for bear in Spanish, is also the name of Golden's first major downtown development in decades. The new development by Innovation Building Group is comprehensive, creating a vibrant mix of residential, tourist and commercial uses.
Ned Johnson, Golden resident and managing partner of Innovation Building Group, along with business partner Rod Nadeau, envision the Oso development enhancing the revitalization of the downtown, along with the new Bridge to Bridge River Boardwalk project.
Oso will provide 30 long-term rental apartments and 24 residential condominiums for sale, while also being the first properly zoned short-term rental property. This will give investors security to operate, and owners the ultimate flexibility in use. Oso is non-smoking and pet friendly.
"The building's community gardens, barbecue patio and coffee shop are designed to create a lively space where people can socialize next to the park and Kicking Horse River trails," said Johnson. "Oso will animate downtown Golden with uses that enhance the community by bringing all the different groups of people together in a great downtown location."
Tourists will love staying near all the shops and restaurants, along with the new Whitetooth Brewery and distillery, while being on the road to Kicking Horse Mountain Resort and world-class snowmobiling zones.
Oso will be home to an electric car-share program and EV charging stations. The fitness co-op and yoga studio will feature instructors hosting a multitude of classes, and will be open to both building residents and those of Golden alike. A communal bike and ski tuning room, a secure indoor storage centre for bicycles and private carports for each condo are added bonuses for those who get to call Oso home.
"Oso has won the Net-Zero Energy- Ready Challenge run by CleanBC Better Buildings," Johnson said. "This challenge was aimed at making buildings across the province less polluting, more comfortable and energy efficient. Oso is designed and being built to meet its own energy consumption with renewable energy technologies, and when it's complete, will be one of the most technologically advanced and most energy-efficient buildings in Canada."