Fernie Brewing Company's spiffy new tasting room has an open seat at the bar
The taste of Fernie is back and growling for more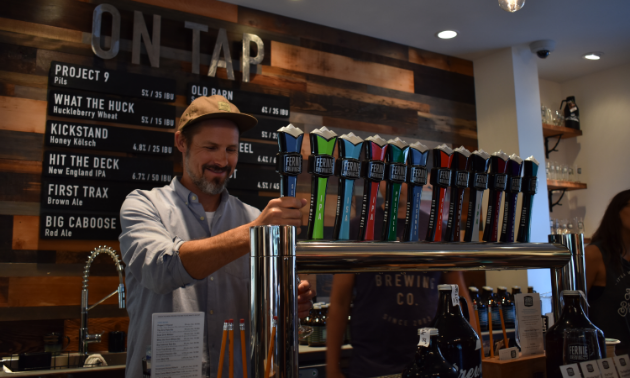 Pull up a stool and fill your growler—Fernie Brewing Company's (FBC) tasting room is back and better than ever.
FBC's tasting room has been rising in popularity. After three months of renovations that added 500 square feet of space, the ritzy storefront and tasting room are ready to accommodate the demand of thirsty Fernie residents and tourists.
"Customers can enjoy a larger space with more circulation and flow," said Abi Moore, brand manager for FBC. "We have a gorgeous new bar with comfy stools, more seating, a new pouring system with up to 12 beers on tap, a third growler filler and more wall space to better display our growing selection of FBC merchandise."
That's a whole lot of upgrades, and FBC isn't done yet. The patio, accessed through a glass garage door, will be installed by the end of July. "There was also a need for more warehouse space, a new tank farm and additional office space upstairs," Moore said. "It seemed sensible to tackle it all at once." The remainder of the renovations will be completed by the end of summer.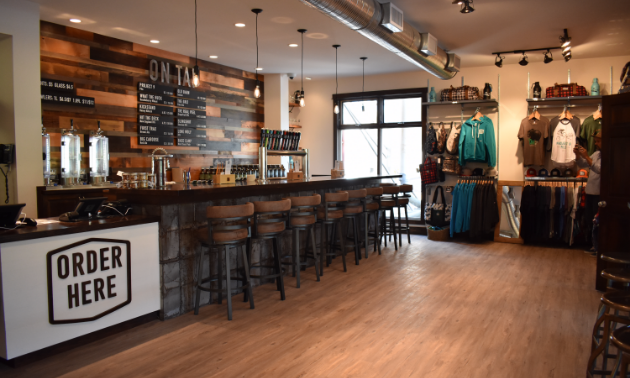 All in the family
FBC is a family-owned and -operated business. The Pask family wanted to bring a brewery back to Fernie, so in 2003 they set up the enterprise in their garage on Dicken road. In 2007, the brewery relocated to the custom-built space on Manitou Road.
The family ties extend from the front office to where the beer is brewed. Gord Demaniuk was FBC's brewmaster for five years. "He was pivotal to the FBC team, instrumental in the growth and success of FBC," said Moore. "He was not only passionate, but very creative in developing several new recipes. He become a mentor to the young brewing staff, educating them on all things brewing, developing their skills and expanding their palates."
Last September, Gord passed away. Gord's eldest son, Jeff Demaniuk, joined FBC last fall, following in his father's footsteps. "We are so lucky to have him here in Fernie, taking on Gord's FBC legacy and developing brews alongside his dad's award-winning beers," Moore said.
Cheers to charity
For the past four years, FBC has been running "Cheers to Charity," a donation program that gives back to the community. Patrons purchase a flight of four beers for five dollars. The customer discovers their favourite brew and FBC donates all profits to worthy local charities, organizations or clubs. The brewery has raised over $55,000 so far. "You are only as strong as your community," Moore said. "We are very keen to support local events and festivals."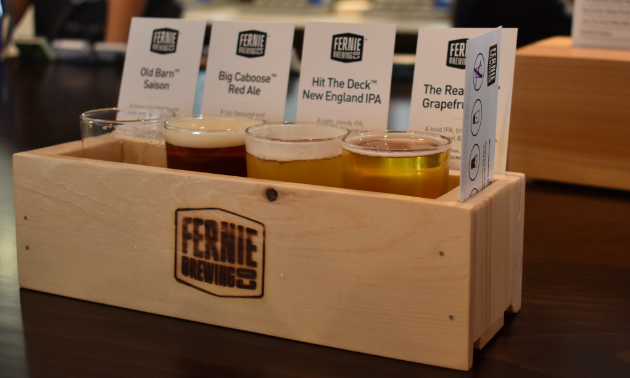 What to choose
FBC doesn't have a flagship beer. Instead, they focus on a variety of iconic brews. "What the Huck is a favourite for the creamy huckleberry taste and the hucking good name," Moore said. "Project 9 Pilsner is also a winner, named after one of Fernie's infamous bike trails. It's a crisp, clean Bavarian pilsner, perfect after a hot bike ride."
Seasonal and limited release brews are proving popular as well. Real Grapefruit IPA, Base Camp West Coast Pale, Sap Sucker Maple Porter or Slingshot Session IPA are recent favourites. The brewery's most popular packaged products—distributed throughout Western Canada from Vancouver Island to Manitoba and everywhere in-between—are winter and summer 12-pack samplers.
Whether you order core, seasonal or limited release beer from a can, bottle, mixer pack, keg or growler, FBC's unmistakable Fernie flavour will be found within. "We produce quality, award-winning, unique and consistently strong products," Moore said.
FBC's positive impact on the city is further solidified thanks to their spiffy new tasting room.