5 Gen Construction helps to build community
The Fernie-based company works to build up and reinforce their city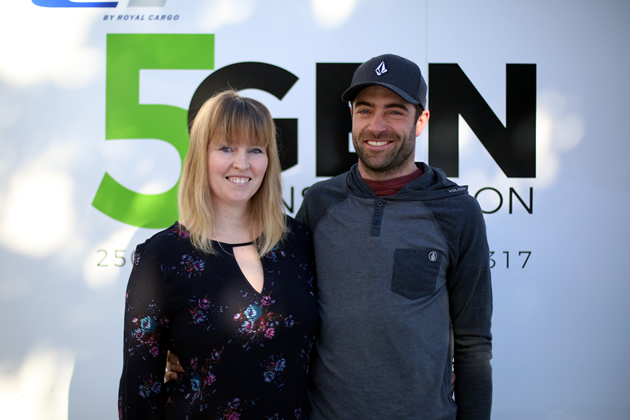 5 Gen Construction in Fernie was born in 2017 when the husband and wife team of Dave Thomson and Coraley Letcher decided to take a leap of faith and start a general construction company. The relatively new business serves the communities of Fernie, Sparwood, Elkford and South Country. Letcher uses her business skills as manager, while Thomas acts as 5 Gen's lead carpenter.
The owners behind the general construction company (with a specialty in roofing) took home a spot on our 2019 40 Under 40 list. Letcher was also a 2019 Influential Women in Business award winner.
Building a beginning
"We started our business three months prior to our third child being born with only $12,000 in savings," said Letcher, "so I suppose you'd expect growing a construction company with a rather small amount of start-up capital while caring for a newborn, a toddler and an elementary schooler to be the hardest thing."
However, in November of 2017, Thomson fell about 15 feet while siding a house. His back was broken among other injuries, but he was alive and relatively unharmed compared to what could have been.
"While I like to joke around that it kept us adhered to our sustainable growth plan, it was a big challenge having the on-site owner injured and unable to work— never mind that we're spouses—so there's a large emotional component to deal with there too," said Letcher. "After making it through that period in our company history, it's almost like there's no situation that we can't make it through."
Teamwork is 5 Gen's superpower. Both Letcher and Thomson recognize each other's strengths and divert work to the other when it applies to their individual areas of expertise.
"We are able to be better at what we do, and teamwork is a philosophy that we embrace throughout other aspects of our business too," said Letcher. "Both our employees and our customers are valued parts of the 5 Gen team. We can't thrive without either of them, and each person has their role in making a project, and in turn our business, successful."
Reinforcing a future
In terms of their business in the future, the duo is excited to continue to learn and face new challenges as they grow.
"We'd like to start building spec homes at one point in the future and that is a really exciting prospect for both of us," said Letcher. "Dave loves challenging himself with bigger and better projects and using new materials and, while I love business management, I have a creative side that isn't quite fulfilled in my current role that would be nourished by the design and material choice elements that would fall to me."
Philanthropy has been a part of 5 Gen's business plan from the start. In its first year, the company was able to do a few small jobs at no cost for various customers who were facing an unexpected hardship or who didn't have enough money to undertake a needed repair. Last year, it was able to devote capital to supporting community events, and did so by being a sponsor for Griz Days.
The company has had plans from the start to host galas and events to raise money for local charities. They're now at a point where that goal is within reach beginning this year or next. It will be a big accomplishment for 5 Gen to reach a goal they conceptualized at the company's beginning.
"We hope to be able to continue to contribute to the communities that support us in increasingly significant ways," Letcher said.
For more information about 5 Gen Construction, visit the company's website or check out its Instagram page.