Women in Business Retreat at the Winery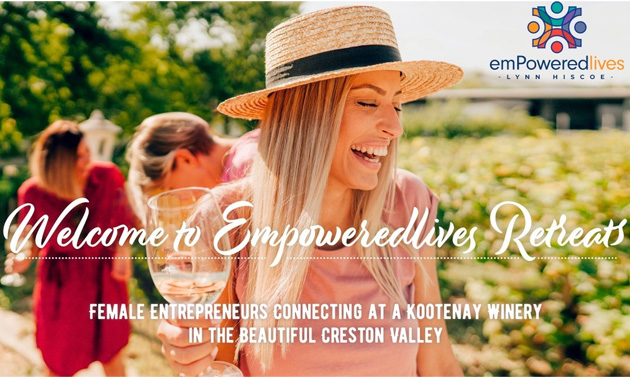 Join us Saturday, October 1st for a day retreat that's specifically for female entrepreneurs, creatives and women in business. Presented by Lynn Hiscoe, the founder and CEO of emPoweredlives, this one-day retreat at the beautiful Skimmerhorn Winery & Vineyard in Creston features workshops, in-depth conversations with keynote speakers and strategy sessions. Come together and support one another as we learn the strategies that will keep you motivated and keep you inspired. Leave feeling confident with flow and ready to design the lifestyle you want.
What to expect:
A stunning outdoor setting in beautiful Creston Valley.
An interactive experience with Lynn Hiscoe, and guest experts.
Gourmet lunch with wine-tasting.
Short breaks with light refreshments.
Raise a glass and share a few laughs with NEW Friends in Business.
emPoweredlives is an emotional wellness company that provides personal growth workshops, treatment, training and retreats to help individuals experience emotional well-being, growth, and resiliency by understanding the value of their worth. Register for the Women in Business Retreat at the Winery and find out more information.