2019 MS Bike Event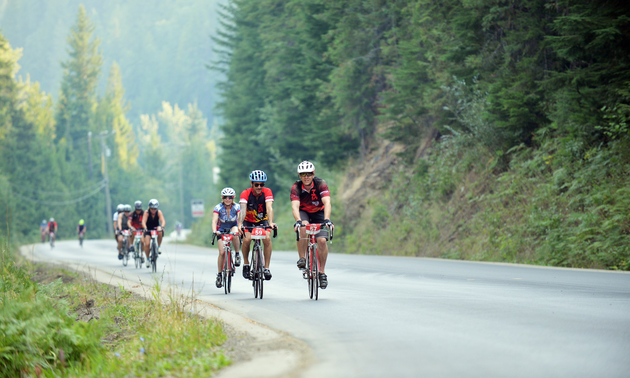 When: July 6 & 7, 2019
Where: Nelson, B.C.
Every year the Multiple Sclerosis Society of Canada organizes fantastic bike events as part of its on-going fund-raising efforts to help Canadians living with multiple sclerosis. One of the national bike events is scheduled to happen in Nelson.
Lakeside Park, the pride of Nelson's waterfront, is your home base for the July 6th – 7th weekend featuring challenging hill climbs, fantastic food, and scenic views unique to the West Kootenays.
Your ride begins through historic downtown Nelson and takes you across the river to Crescent Valley. Heading back, you'll take on the 49 Creek Hill, a favourite among West Kootenay Challenge veterans.
On the second day, you'll be following Kootenay Lake to take a quick ferry ride for a visit to Procter. Don't be fooled by the leisurely nature of this route -- a challenge awaits on Long Beach Road before you head back to Nelson.
Your ride is fully supported with marked and mapped route, a support and gear vehicle, and our awesome volunteers who will cheer you on along the way. You'll also be treated to breakfasts, lunches, and a dinner on Saturday night to celebrate and socialize with your new MS Bike friends.
Experience Nelson from the best seat in the house – your bike!
Registration Fee Schedule
Sign up early and get great discounts! Check out the schedule below for registration fees.
$30 reg fee - February 22
$50 reg fee - February 23 - April 28
$70 reg fee - April 29 - July 6
Accommodations
Nelson offers a variety of accommodation styles to fit every need. Visit Nelson and Kootenay Lake Tourism for more information.
Event Information
Location: Rotary Lakeside Park, Nelson
Check-in time: 7:00 AM
Start time: 8:00 AM
Route length(s): Day 1: 56km- 80.4+; Day 2: 67.3km
Early Check-in Location: TBA
Early Check-in Date: Friday, July 5, 2019
Early Check-in Time: 5:00 PM - 8:00 PM