Festivals in the East Kootenay bring fun, friendship and smiles
It's festival season in the Koots! Time to don the party hat and polish up the dancing shoes.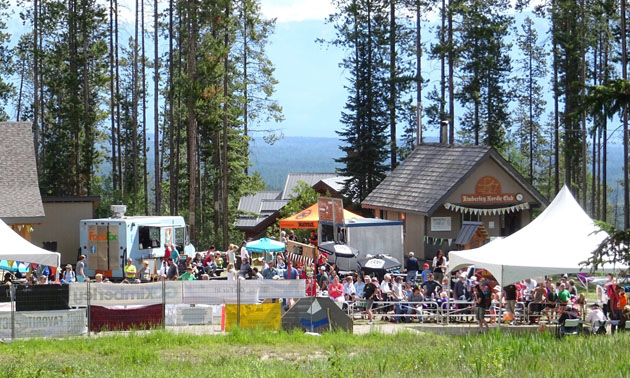 There's nothing quite like being at a festival, surrounded by people you don't necessarily know, yet still feeling like you're united amongst friends. As any die-hard festival goer can attest to, there's magic in shared experiences and that's part of what makes festivals so popular.
Here in the Kootenays, there's a huge range of summertime festivals to explore—from a free annual event that celebrates the magic of childhood to one of the biggest wildlife festivals in Canada, there's an event for every taste.
Check out our list of the biggest and brightest music, nature and cultural festivals throughout the East Kootenay region. These annual events not only attract new visitors to our region and provide a sense of community for local residents, but they are also an important economic stimulus for local businesses.
Come out and support your community, enjoy a day out with family and friends and celebrate! Also, check out our list of West Kootenay festivals here.

Please note that festival dates listed are for 2023. Dates are subject to change from year-to-year.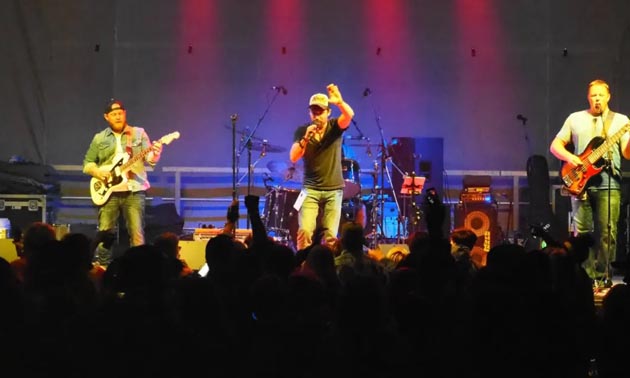 Festivals in Canal Flats
Flats Fest: August 18-20
Flats Fest is a three-day toe-tappin' country music festival that brings some of the best names in Canadian country music and beyond to the beautiful village of Canal Flats. The 2023 line-up is still being finalized, but popular musicians returning from last year will include Craig Moritz, Julian Austin and Shane Profitt. Enjoy the beer garden while you listen to top headline acts from across the country, as well as many supporting bands and musicians. Bring your camp chairs, sit back and prepare for a fantastic weekend of musical entertainment! There are also vendors, and camping is available on-site.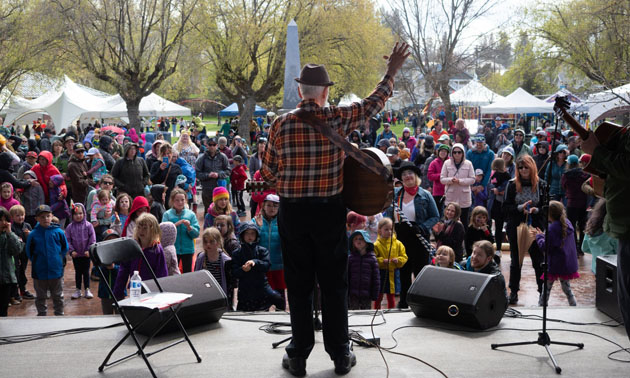 Festivals in Cranbrook
Kootenay Children's Festival: May 12-13
The Kootenay Children's Festival is a fun-filled event that celebrates the magic, fun and wonder of childhood. It's one of the last remaining free children's festivals in British Columbia. This year, the festival kicks off on the evening of Friday, May 12 with a family dance in Rotary Park—popular band Pretty For The People will have you on your feet and dancing the night away! The festival has an ever-changing schedule of well-known performers each year—past guests have included beloved children's entertainer Fred Penner, Ktunaxa Nation storytellers, and dancers and circus troupes. There's a kaleidoscope of fun-filled activities to explore such as crazy hair and face painting booths, bouncy castles and flower planting.
Rock the Kootenays Music Festival: August 11-13
Get ready to rock at the Kootenays newest festival! This 3-day rock extravaganza headlines some of the best names in Canadian classic rock—Tom Cochrane, Kim Mitchell, Prism, April Wine, Harlequin and more. This outdoor, family-friendly concert will be held at Western Financial Place, rain or shine. Food vendors will be on-site.
Spirit of the Rockies: June 15-18
One of the biggest festivals in the East Kootenay, Spirit of the Rockies is a family-friendly four-day festival that celebrates the spirit of the mountain community. The event was originally known as Sam Steele Days, in honour of the legendary figurehead in the history of Cranbrook and the Canadian West, Superintendent Sam Steele. The festival underwent a name change in early 2023 in order to enhance the regional appeal of this annual event. The festival kicks off with a community-wide pancake breakfast and a host of fun events, including a parade in downtown Cranbrook. Other festivities include a vendor market, live music and entertainment, an inflatable funland for kids and the always popular weiner dog races.

Summer Sounds 2023: Thursday evenings throughout the summer
The free community Summer Sounds concert series at Cranbrook's Rotary Park is organized by the Fisher Peak Performing Artists Society (FPPAS), a local non-profit organization. Bring out your friends and family and enjoy some of the finest musical entertainment in the Kootenays, showcasing the best in folk, rock, country, jazz and blues music. This year's Summer Sounds series is held every Thursday evening from 6:00 p.m. to 10:00 p.m., starting July 6, 2023.
Festivals in Creston
Creston Valley Bird Festival: May 12-14
Did you know the Creston Valley is an important staging area for migratory birds, with over 300 different species spotted in the region? Come and celebrate the birds, art and agriculture of the Creston Valley at the Creston Valley Bird Festival. A variety of birdwatching activities led by field experts are offered at the festival—guided canoe trips, local naturalist tours, bird identification workshops and more. There are also photography and bird-oriented courses, art displays, local wine and walking tours, and activities for kids.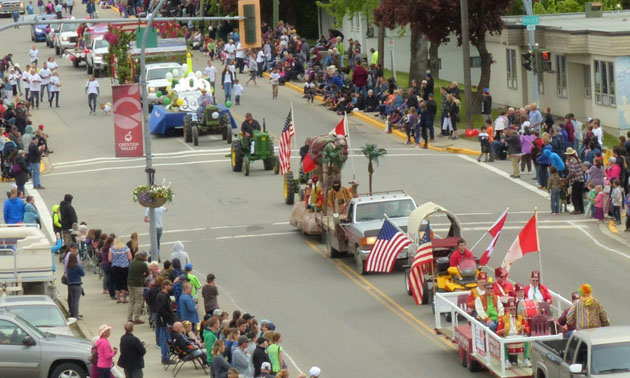 Creston Valley Blossom Festival: May 19-22
Creston celebrates in style during the May long weekend with the annual Creston Blossom Festival. Now in its 82nd year, the Creston Valley Blossom Festival was originally planned as a way to lift spirits in the midst of the war years. The residents of Creston and area are proud to continue this tribute to community resilience each year. A whole host of fun, family-friendly activities happen throughout the town during this three-day festival: a main parade followed by a children's parade the next day, a street fair, dances, drag car races and much more.
Festivals in Fairmont Hot Springs
Wicked Woods Music and Arts Festival: June 8-11
Nestled in the heart of the Columbia Valley, the Wicked Woods Music and Arts Festival is a feast for the imagination. Prepare for a weird, whimsical and wonderful array of workshops, performing artists, DJ's, musicians and more, all intent on celebrating life with as much sight and sound as possible.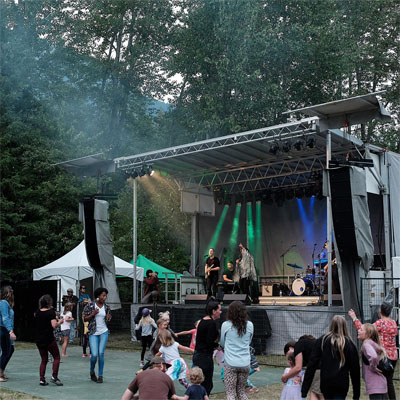 Festivals in Fernie
Wapiti Music Festival: August 11-12
Dance your heart out at the 11th annual Wapiti Music Festival, celebrating the best in Canadian Indie music. Located in beautiful James White Park in the heart of mountain town Fernie, this family-friendly festival offers up a fun, funky atmosphere and a host of activities for all ages. There are food trucks galore, a vendor market, activities for kids and, of course, great entertainment and live music.
Festivals in Invermere
Columbia Valley Smokeshow BBQ Festival (and BBQ competition): coming back bigger in 2024!
The first annual Columbia Valley Smokeshow BBQ Festival in 2022 was a burning success! So much so that the organizers are taking a break for 2023. There's so many big ideas and plans for growth that extra time is needed to make the festival the best it can be. Pitmasters, backyard grill warriors and BBQ aficionados: stay tuned for a big comeback in 2024!
Wings Over the Rockies Nature Festival: May 8-14
One of Canada's largest wildlife festivals, the Wings Over the Rockies Nature Festival celebrates the incredible biodiversity of life in the Upper Columbia River wetlands. Now in its 26th year, the festival features over 100 family-friendly events. From paddle and hiking trips to photography workshops and a KidsFest, there's something for everyone to take part in. Guided by local educators, wildlife experts, conservationists, biologists and ecologists, there's a wealth of fascinating knowledge waiting to be discovered about the Columbia Valley.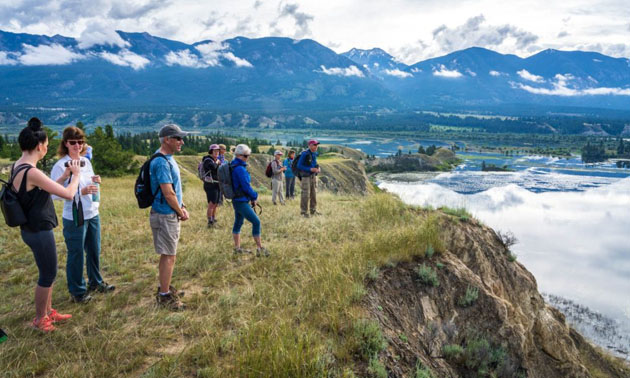 Festivals in Kimberley
Dirtbag Festival: May 12-13
The Dirtbag Festival celebrates the thrill and spirit of adventure, something the Kimberley area has in abundance. With two days of film, photography, local live music and the KORE Gear Maker's Market, the festival celebrates the region's famous mountain culture and lifestyle.
JulyFest: July 14-16
JulyFest is one of Kimberley's biggest events and this year plans to be even bigger! 2023 marks the 50th anniversary of this festival that celebrates local sport and music. Happening over three days, the highlight of this fun-fest is the Canadian Bocce Ball Championships where teams of four compete for fame and Bocce ball glory. Not to be missed is the JulyFest parade, an invitational soccer tournament, extreme skateboarding, live music, bands and great food vendors.
Marysville Daze: June 3
Join the party at the annual Marysville Daze. This one-day festival brings together the community for a day of fun and celebration. There is a pancake breakfast to start, followed by the opening of the Maker's Market and Beer Gardens. Enjoy live music all day, plus a great variety of food trucks to choose from. For the kids, there's a huge play area to explore including a bouncy castle and games with prizes.
Round the Mountain Festival: June 25
This one-day festival showcases the spectacular scenery and extensive trail network around Kimberley's North Star Mountain. Hosted by the Kimberley Trails Society, the festival features a variety of hiking, running and mountain bike challenges around the mountain. There are also kid's races, live music and great food options at this family-friendly festival.
Festivals in Sparwood
Coal Miner Days: June 5-11
Sparwood's annual Coal Miner Days brings the community together for a days-long festival and celebration that's fun for the whole family. There's a wealth of entertaining activities for all ages, including a Slo-Pitch tournament and beer gardens, a food truck festival, roller-skating, carnival games for the kids and fireworks.