Reaping the benefits
The new fire hall in Cranbrook is making operations more efficient for emergency services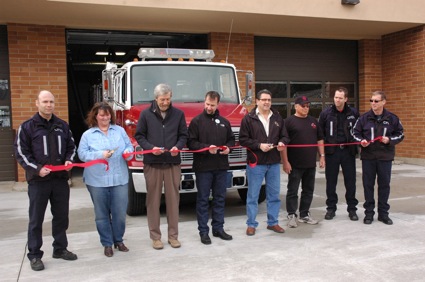 The Cranbrook Fire Department has moved into its new digs, which will allow staff to provide better service and the capability to respond to emergency situations around the community.
Personnel were previously stationed at the fire hall downtown and equipment was dispersed between the two fire halls; this was an inconvenience if certain equipment was needed at an emergency scene and wasn't readily available.
Acquiring new communications technology is another aspect of the move into the new fire hall that is making operations more efficient, said Chief Wayne Price, director of fire and emergency services.
"Now that we've upgraded, we have the capacity to accommodate anything (in communications) that we may require in the future," Price said. "The old equipment was dated and basically redundant."
The life expectancy of the structure is between 40 and 60 years, but it was built to a post-disaster standard; the new hall exceeds the minimum building code requirements by roughly 20 per cent and could possibly be used beyond its projected life span, said Price.
There is room for growth and Price expects the hall can handle an additional four to eight staff members before another fire hall will need to be built. But that will be a future decision based on the how the city population expands, Price added.
Scott Manjak, the mayor of Cranbrook, praised the work put into the building by planners, subcontractors and fire department staff.
"We see this as a real investment in our community and an investment in the safety of our residents," he said.