Trio of award-winning companies continues to expand
The Floyds own and operate three businesses: Culligan Water Conditioning, Beachcomber Hot Tubs and Flaman Fitness.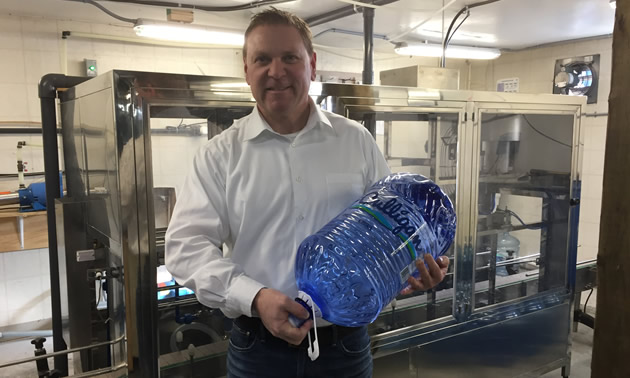 Murray and Sherri Floyd are expanding their successful Cranbrook operations into the West Kootenay. One of the most dynamic and fast-growing businesses in the Kootenays is owned and operated by Cranbrook's Murray Floyd and his wife, Sherri. The Floyds own and operate three businesses: Culligan Water Conditioning, Beachcomber Hot Tubs and Flaman Fitness and Recreational Products.
The businesses have been strategically designed to go hand-in-hand with each other and create great synergy. They operate out of one central location, which is in close proximity to downtown Cranbrook. In addition to offering top-of-the-line products and service, Culligan has recently expanded its water bottling facility with state-of-the-art equipment and last year added an ice-making plant to its lineup.
So what's the story behind this company's success? "In 2001 I came to work with Culligan Water and Beachcomber Hot Tubs in Cranbrook with the hopes of buying into the business within a year," said Murray. "The first year went very fast. Without hesitation my wife, Sherri, and I bought in. Our son, Ashton, was only one year old at the time and our daughter, Caydence, wasn't even born. We knew this was a great business opportunity, so we cashed in our RRSPs, sold all the toys, like boats and ATVs, and never looked back. Since then we have purchased the whole business, and in three years we were able to buy out some smaller bottled water businesses around us in Invermere, Sparwood and Creston. We incorporated these new customers into our delivery area," he explained.
"These purchases started in 2008, when the economy was not great. However, one of the water companies we purchased produced ice. We liked the idea and built a new ice plant in Cranbrook. Now we are delivering ice cubes and blocks to many stores throughout the area," Murray said. "In fact, we were the first outlet in North America to be allowed to call our ice 'Culligan Ice' due to our high bottled water manufacturing standards."
In 2008, the Floyds also opened up Flaman Fitness. It was a good fit for the company because Murray had an education in fitness and nutrition. It has proven to be a great fit for the business and the community, as the business has slowly evolved into a lifestyle centre, which was one of their plans from day one. "We knew that when the fitness side slows down in the spring, our patio furniture line would pick up in summer," Murray said. "So we were pleased to add patio furniture to our business even though we had some patio furniture before on a smaller scale."
Murray is very proud of the fact that everything they supply in their businesses brings great quality, selection and value to their customers. You can even purchase game room supplies like pool tables, darts, foosball and hockey tables at the store.
How has the growth been managed? "Even though we have grown to well over four times the size since we purchased the company, I am proud to say it has been slow, controlled growth," Murray said. "I wouldn't let any expansion happen unless our co-workers and systems could handle it. We have purchased land and several buildings to manage our growth over the years. I am a firm believer in investing back into the business and the community."
One area in which the company has seen tremendous development is its expanded bottle manufacturing capabilities. "Four years ago, I was involved with a group of business owners from across Canada who wanted to produce their own bottles," Murray said. "Without hesitation, I again was ready to jump in. It was a really long process, as we had to make sure everything was CSA-approved; however, we now have a fully operational bottle manufacturing plant right in Cranbrook. In fact, the only other ones like this are in Vancouver, Edmonton, Saskatoon, Winnipeg and Ottawa." Culligan now produces 11- and 15-litre one-way bottles that are recyclable, carry a 20-cent deposit and can be simply returned to your local bottle depot. They currently are available in Costco on the Coast, Canadian Tire locally, plus in some grocery stores up the valley and around the area.
More expansion is in the works, as Murray explained. "Just recently our company was granted the rights for Culligan Water, Beachcomber Hot Tubs and Flaman Fitness for the Trail, Castlegar and Nelson area," he said. "We have been working with a partner in that area to see about bringing all of our products to the West Kootenay. We are pleased to announce our working relationship with Maglio Building Centre, based in the West Kootenay with locations in Nelson and Trail. Maglio's will have access to all we have to offer, which includes Beachcomber hot tubs and patio furniture, Flaman fitness equipment and Culligan water and water treatment equipment."
Maglio's will be renovating a Trail location to make room for all these new products in the coming weeks. "The West Kootenay will be able to enjoy all the benefits of all we have to offer right away. We are currently offering free delivery on hot tubs, fitness equipment and patio furniture in the area," he said.
The company has received a raft of awards over the years, which is testimony to its outstanding service and approach to business. "Just recently I was in Vancouver for a Beachcomber Hot Tubs conference," Murray said. "We were honoured, for the multiple time in a row, with the Beachcomber Store of the Year Award. We also received the top award worldwide called the Tethys Award. This award is only awarded to a dealer who strives to follow all the Beachcomber systems and consistently provides exceptional customer service.
"We have also won other awards as well," he continued. "Since we opened Flaman Fitness we have been their Top Gold Dealer. With Culligan, year after year we've received the Excellence in Manufacturing Award from CBWA (Canadian Bottled Water Association). We have recently won a superior performance-in-market penetration and growth award and the Top Culligan Dealer Award. I am very proud of my business and am very thankful for my co-workers—yes, co-workers, not staff. We have a great team. Our businesses wouldn't be anything without them."
Culligan is recognized worldwide for its industry-leading water treatment for all types of water for industrial, commercial and residential uses.
What about the community? "Owning a business has many privileges but not the ones most people think of. I love the idea that we as a company sponsor many sports teams, clubs and organizations," Murray said. "We support as many GoFundMe pages as we can. We are pleased to help all the families in the areas where we do business. For example, we buy turkeys, food hampers, lunches for kids, we support women's shelters and many more charitable events around the area. I have to say this is one of the most rewarding parts of owning a business. The other is being able to provide a safe, fun and rewarding place for our co-workers. We are big on doing things like Christmas dinners and family picnics where we bring all the kids, play bocce, horseshoes and other games. We currently employ 22 full-time people; in the summer it goes up to 26 employees.
"Thank you for taking the time to read our story and we look forward to serving you soon," said Murray.