The next stretch for Curves
Cranbrook Curves presents up-to-the-minute fitness technology for its exclusively female clientele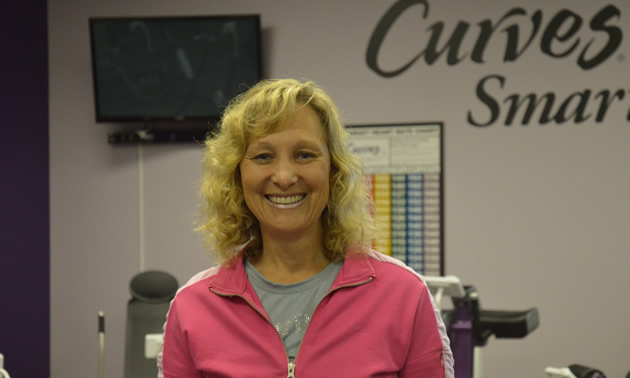 Like many franchises, Curves International—a fitness club exclusively for women—emphasizes to its club owners that they're in business for themselves, but not by themselves. Carla Lowden, owner of Curves in Cranbrook, B.C., agrees that this is true—she has found the business guidelines and support from Curves readily available and always useful. She particularly appreciates the company's far-reaching advertising campaigns and the training that is provided for the Curves staff.
Lowden purchased the franchise on October 1, 2006; she's the third owner since the club opened in Cranbrook in May 2000. She immediately upgraded the exercise machines and has since kept up with the company's technology. In January 2014 Lowden adopted the new Jillian Michaels Kick Start weight-loss program for the club, and in March she replaced all of the exercise equipment with the newest and best from Curves.
Getting stronger, reaching farther
Because of her own commitment to support women to become stronger, Lowden appreciates Curves' emphasis on exercise, good nutrition and an empowering community. The club has a nutrition program, Curves Complete, and its dedicated coaching staff and the club's membership itself provide the supportive community.
"It's a fun business," Lowden said, "and it does take some special skills. You need to be able to multi-task, because there is a lot going on when it's busy, and you kind of need to keep it all going. You need to be able to stay calm and patient with a lot going on—you need to prioritize and keep your sense of humour."
Lowden said she's always been an entrepreneur who naturally takes on responsibility and leadership. She is also an instinctive nurturer who is trained as an occupational therapist and physiotherapist, and at this stage of her life she has a desire to use that training again, in a way that is especially meaningful to her.
"I'd like to do it overseas where I feel that I can really make a difference," she said. "To do that I need to be free to travel for several months at a time. Curves is a hands-on business for me, and so I've decided to offer the business for sale. I want to find someone who is passionate about strengthening women, who is wise about making decisions, a good motivator, a good leader, who wants to work the business and who cares."