New passion in the pulse of Cranbrook
David Kim focuses on customer service, teamwork and risk management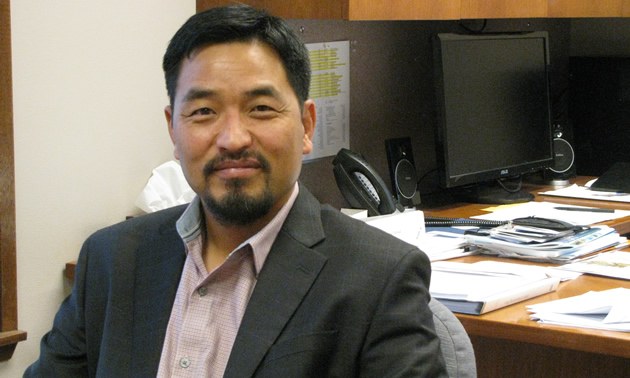 Cranbrook's new CAO has an impressive curriculum vitae. Before David Kim (P.Eng., M.Sc.) arrived to take up his position with the City in April 2016, he was the Calgary-based vice-president responsible for Western Canada for RJ Burnside & Associates. Before that he was manager of the Urban Development Department for the City of Calgary, responsible for corporate growth management, development approval and infrastructure servicing during a time of explosive growth.
Through his experience with these demanding, well-paid positions in public service and the private sector, Kim realized that public service added a vital element to his work: the satisfaction of using his knowledge, experience and energy to create a broader community impact.
"For me, money is not the first priority," Kim said. "At the end of the day, mental reward is much more important.
"I'm not naive," he continued. "I understand that the challenges I have in this position are on a different scale from the challenges I had previously. The scale is different, but the nature of the challenge is similar, and I believe that my experience is very applicable and very helpful."
Though the scale is smaller, Kim's daily contact with Cranbrook's stakeholders means that his work carries a deep level of personal significance.
CAO Kim answered a few questions for us.
What's been your focus for the past seven months?
(Initiating a) look at Cranbrook's strengths, including logistics and supply chain. Our strength resides in diverse urban services and the transportation industry. Highway 3 and Highway 93/95 are important truck routes, and we're located right at the centre of that.
We also have an international airport which is a nodal point for passengers and freight. Are we utilizing the opportunities of that traffic? We must have a big vision, develop realistic ideas and work hard to benefit industries and the vibrancy of our communities. That will bring in more tax dollars, with positive cascading impacts on jobs, college enrolment and inner-city vibrancy.
We're looking at the logistics industry and working on initiatives that will bring more economic development and community sustainability, such as an intermodal hub, serviceable residential and industrial land and more housing, a bike trails network, downtown transportation improvement, and an improved main street, etc.
Housing affordability is another opportunity. If we don't stay on top of it, we can't attract a lot of good human resources. Big industry looks at housing affordability on behalf of (its) workers, so it's an important issue. In Cranbrook, our economic base is quite diverse and our housing prices are still competitive, so we are in a good position.
Most importantly, I spent a lot of energy in the past seven months in shifting the risk-averse culture here to more of a risk-management culture, and I think there's been a very healthy change.
What do you think about the development initiative between Cranbrook and Kimberley?
It's very important that each community brings its strengths into play, and that they work to be complementary. Cranbrook has the role of being an urban service centre: it has diverse industries—transportation, logistics, manufacturing, logging and mining. We have strong highway commercial—big box stores and street malls. Our housing is becoming more diverse, from single-family to multi-family housing. Our public institution partners like the college and the hospital are very active players in our city.
However, we could use more recreation and leisure-type activities and alternative amenities, and that's what Kimberley brings to the picture. If, instead of competing, we can come together, branding and selling ourselves as one package, there will be way more opportunities.
What do you think is a common roadblock to a community's progress?
In my experience, the passion and energy and attitudes of the leaders cascade to the entire organization. It's rare to see the passion and energy to constantly motivate and influence the staff such that the entire organization is oriented to a positive vision.
In many cases, the actual goal gets buried within the process. Because bureaucrats often focus on budget and regulatory limitations, and protection of their actions, they can forget about the needs of their customers, and as a result the quality of their service suffers.
What I bring to this picture is a whole different philosophy. Let's identify our citizens as our customers. What are their needs? What are the best ways to deliver our services? If we don't have the budget for the traditional methods, what innovative, creative methods can we come up with to meet the level of service we want?
This is our first year, and changes will take time. Once the organization is re-oriented to customer service, our citizens will see some real benefit in the real world. The timing is excellent. The local leadership is ready. I believe that within five years there will be tangible, visible changes here, and it's exciting to look forward.
The most important motivation factor for me—and I'm very passionate about it—is to be able to influence and contribute to the real impact, to actually move a community to the next level of positive change. That is the biggest motivation and career legacy for me.