New Dawn - the future
Leanne and Chad Jensen of New Dawn talk about their foundation and their future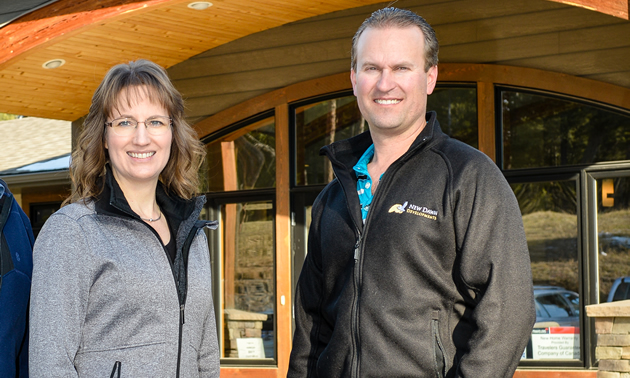 Leanne and Chad Jensen are business partners with their father, Rick, in the New Dawn Group of Companies. Leanne is president of New Dawn Restorations and Renovations, and Chad is president of New Dawn Developments.
"I am surrounded by a very competent staff team," said Leanne, "and together we can handle any restoration or renovation project presented."
Chad added, "New Dawn has been very fortunate to have a great team of employees and partners who provide us the ability to have the required flexibility to excel in the Kootenays."
On family
We asked Leanne and Chad about the family relationships that are the heart and foundation of their business success. Here is a recap of our questions and their answers:
How would you describe your dad's leadership style, and what have you learned from it?
Our dad leads by example. He has always been involved, hands-on, in every aspect of the businesses, so he understands all of it but he doesn't micro-manage. He has allowed us to move the businesses in the directions we have and allowed us to make our own mistakes and learn from them, while always being available and willing to offer guidance when we ask for it.
He has a strong work ethic and vast knowledge of the industry, and he's very encouraging. He taught us never to ask someone else to do something we aren't willing to do ourselves.
He also taught us not to micromanage and to trust our team. We should guide them, but let them do their jobs. They may make some mistakes, but they will learn from them and become even more valuable.
And what values did you learn from your mother?
From our mom we learned devotion to family. She is willing to do anything she can to help and support us and our families. She's always cheering us on, but she prefers to stay in the background and doesn't get the credit she deserves as a vital member of the Jensen team and our success.
Leanne, what characteristic of Chad's do you most admire?
Chad is consistent and fair. He has high standards and expectations of staff and sub-trades, but in tough situations he bases decisions on what is fair for both parties. I think everyone knows they can count on that with Chad. He has earned the respect he has within the industry and the community, separate from being Rick Jensen's son.
And Chad, what characteristic of Leanne's do you most admire?
I admire Leanne's work ethic, her dedication to family and her courage to tackle any assignment.
Best advice
We also asked Leanne and Chad what advice they might give to the 20-year-old versions of themselves.
Leanne responded, "Don't worry about what you can't control. Focus on what you can influence. Everyone is dealing with issues we don't know about, so be kind to everyone and don't judge others."
Chad's advice was, "Stay focused, don't over-leverage, go for base hits and don't swing for the fences. The harder you work, the luckier you get. Flexibility is crucial to be able to adjust and adapt to changing environments and markets."
The best thing about work
Leanne said that what she likes most about her job is the opportunity to help people. She takes great satisfaction in helping clients to recover and rebuild after their homes have been damaged, and very much enjoys overseeing renovations that improve the function and appearance of homes and businesses.
"I also like knowing I'm helping my staff to support their families," she said.
Chad's favourite part of his job is seeing the finished product.
"We have proven that New Dawn is a team of professionals who care about our clients," he said. "It doesn't matter if you are dealing with the owner or one of our staff—our dedicated team successfully turns dreams into reality, lasting for generations. That is unmatched in most jobs or industries."