Expanding specialty services
Chris Thom fronts Rocky Mountain Diesel, a company that is standing out from the crowd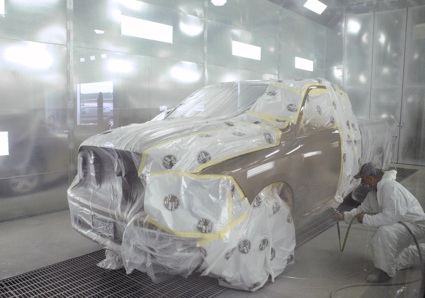 Looking for the largest automotive paint booth in the Kootenays? It's located at Cranbrook's Rocky Mountain Diesel. How about the only commercial body shop between Kelowna and Lethbridge? That's also found at Rocky Mountain Diesel—as is the largest commercial frame-straightening machine in the Kootenays. It's obvious from speaking to president and owner Chris Thom that his company has found a niche in the Kootenay automotive industry.
Founded by Thom's father and uncle in 1981, Rocky Mountain Diesel has remained a family-owned company for nearly 30 years. In 1989, the company moved to its current location at 1125 Cobham Avenue West. Thom's father and mother took over the business in 1993.
Thom's involvement in the company started in his youth with odd jobs, such as sweeping floors and emptying garbage. He's had a hand in many different areas of the company, from mechanical jobs such as welding to administrative ones, including warranty administrator and a five-year period as parts manager. He and his wife took over the company on December 1st of 2008.
On November 4th of 2009, Rocky Mountain Diesel began working on its latest expansion, consisting of a new 697-square- metre facility, a downdraft paint booth and a frame-straightening machine. This isn't the first significant change the company has undergone—464 square metres were added to the facility in 1991. However, these latest additions will help the business build on the many client relations it has built up over three decades, as well as helping to forge new ones.
Thom said that the difficulties in getting commercial work done locally necessitated the type of facilities now found at Rocky Mountain Diesel. Rather than shipping parts to Lethbridge for painting, his staff is now able to get vehicles back on the road in a matter of weeks, not months.
"In moving forward, we were responding to customer needs," said Thom. "A commercial vehicle (is) their livelihood; they don't want to have it in the shop for months—they want to get it out as soon as possible and get it back to work, and continue to make the payments. We had to really shorten that time down for people and . . . try to keep our customers on the road where they can make some money."
Thom said that the many contractors involved in the expansion rose to the challenge of the demanding schedule admirably. Business support also comes from Thom's wife and parents, both of whom are still involved with the company.
The recent changes, the strong group of employees and the dedication to its customers make it clear that Rocky Mountain Diesel will continue to prosper. Thom said he's anticipating a bright future, including an increase in the number of employees from the current 26 to around 40 within the next year.
"We're (excited about) moving forward and supporting the local economies," Thom said, "and doing what we need to do so that everyone can be successful."