David Kim, CAO Cranbrook
David Kim employs empathy, innovation, principles and science in his daily work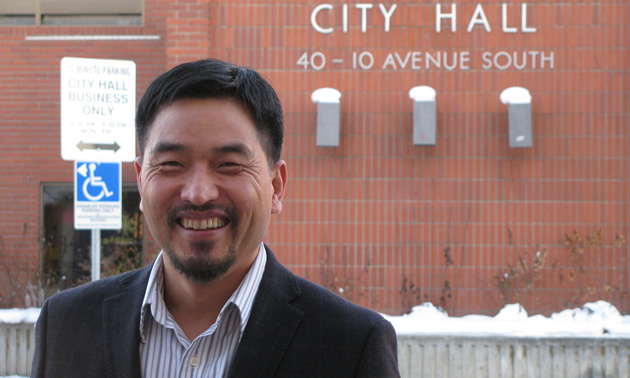 Since David Kim took up the position of CAO for the City of Cranbrook in April 2016, he has been building a corporate culture of customer service, collaboration and risk management (as opposed to risk aversion) in the city's administration. He has also established collaborative development and building approval processes between the City departments and development industries. He said he's already hearing positive comments from industry members and citizens regarding how the City's attitudes have changed.
"I work hard to develop sound and healthy principles, and then I stick to them," said Kim. "In that way I'm consistent, but as far as the method of accomplishing things, I'm very flexible, which allows me to be innovative. I'm willing to change my position if it is proven to be less effective than others. At the end of the day, we're in the people business. To me, any ideas are good ideas as long as people are willing to listen to others."
To learn more about the City's chief administrator, we asked him some questions.
What strengths do you bring to this position?
There's my education, which is multidisciplinary; studying engineering, planning and economics means I am able to understand real-world problems from various angles.
There's my 15 years of experience working for the City of Calgary, and experience in nation-wide and international consulting businesses—this all formed a dynamic and holistic view that serves me well.
Personality-wise, I'm focused and determined. I have a lot of passion and energy and I'm constantly searching for new ideas and innovations—if it's not new or unique, it's not as much fun. I'm empathetic, and that helps with my customers and my staff. I always want to be part of a team, not a loner. I'm a harmonizer, but I always want to improve.
What's on your work agenda for the new year?
We'll focus on growth and change by capitalizing on Cranbrook's potential as a transportation hub. As the largest complete urban service centre between the Lower Mainland and Calgary region, we are in a strategic location for future logistics and supply-chain industries. We conducted a one-day regional truck activity survey, stopping 350 transport vehicles that came through Cranbrook in the daytime hours. This survey will give us great information as to what activities are happening in our region, who the players are and an idea of what's needed. We're looking at the CP Rail yard, industrial land and areas for a potential intermodal business park. We're also looking for innovative ways to deliver quality roadway services at a much lower cost than we have been paying.
We're also looking at building up our intellectual infrastructure. This city is the largest organization in this region, and we own a lot of great information—we just have not compiled that information in a way that benefits us. Through peer training and departmental training, the accumulated wisdom of our employees will be retained and shared. And we will be working on some sort of intelligent process to allow the staff to navigate the corporate knowledge efficiently and use it for our day-to-day decisions.
We'll also be implementing the one-call system and online reporting system to make it easier and faster for people to get assistance and response from City Hall.
What's something fun that most people might not know about you?
I've been building a car in my garage for about 10 years. The engine is a 1973 Cadillac 500. We souped it up to about 500 horsepower—so I could become a pistonhead too, as well as the leader of an organization. I'm an artist at using both sides of my brain.
How would you define success?
You can measure success quantitatively, with numbers, but for me success is more qualitative. I want to contribute in building a city where our citizens feel secure, where they have an opportunity to fulfill themselves and enjoy their lifestyle in Cranbrook through amenities and quality of life and employment.
Focusing on the mental rewards of this position and what I can do here gives me great joy.