Two Kootenay residents receive BC Medal of Good Citizenship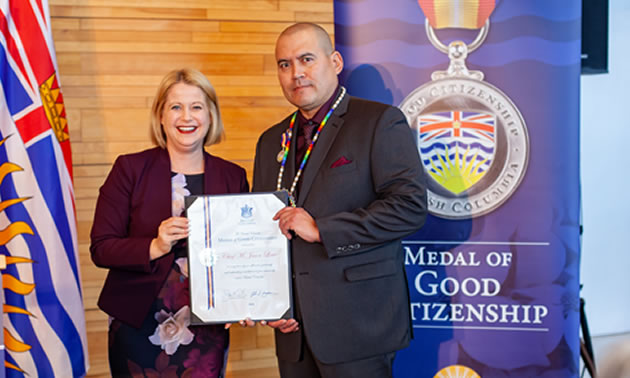 The Province of BC's Medal of Good Citizenship is awarded to residents for outstanding long-term service and commitment to helping others in their communities. This year, among 18 individuals being recognized province-wide, are two deserving Kootenay residents.
Chief M. Jason Louie
Born in Creston, Lower Kootenay Band Chief Jason Louie was first elected in 2010. Now serving his third term as leader of the Ktunaxa people, he's known as a strong and respectful leader, dedicated to building a self-sufficient economy for his people while retaining harmony with Ktunaxa traditions and values. Under Louie's leadership, the Lower Kootenay Band has made some important acquisitions such as the addition of 475 acres of lakefront property on Kootenay Lake and the acquisition of Ainsworth Hot Springs Resort.
For over 30 years, Louie has been involved with the Lower Kootenay Band Annual Pow Wow, one of the few remaining Pow Wows in North America. He also organizes and participates in many Ktunaxa youth initiatives and is passionate about preserving the Ktunaxa language.
A former veteran, Louie is well-respected for his openness about his personal struggle with PTSD and depression and is a tireless advocate for mental health awareness. He regularly leads traditional ceremonies for First Nation people living with mental illness and addictions.
Above all, Chief Louie is passionate about creating a future in which the Lower Kootenay Band become equal citizens, in a province and country that includes and recognizes First Nations Peoples as autonomous neighbours, within the traditional lands that we all call home.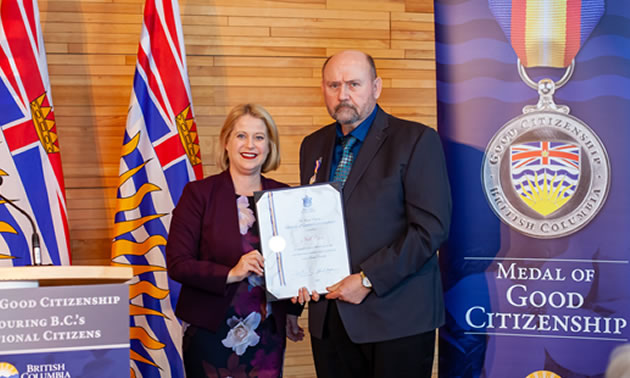 Neil Cook
A resident of Cranbrook for 26 years, Neil Cook is a well-known face in the East Kootenay city. A tireless and dedicated volunteer, Neil has selflessly donated his time and effort to many organizations and projects in the region, all with the goal of helping people and improving his community.
Cook played an instrumental role in founding the Cranbrook and District Community Foundation in 2003. Now known as the Community Foundation of the Kootenay Rockies, this successful organization currently holds $2.5 million across 37 permanently invested endowment funds, and supports many community services and organizations.
Over the years, Cook has shared his knowledge and experience by serving on the boards of the local Canadian Mental Health Association, the Cranbrook Family Centre, Cranbrook Society for Community Living and the Cranbrook United Way. He has been a member of Cranbrook Sunrise Rotary, the Cranbrook Rotary and Kinsmen, along with 22 years of volunteering with the Cranbrook Community Christmas Dinner as a fundraiser and chef.
Known throughout the community as someone who is kind, inclusive and generous, Cook has volunteered much of his time with non-profit organizations. He served for seven years as the volunteer Chair of the East Kootenay Homeless Coalition. During this time he has worked tirelessly to build a 24/7 homeless shelter in Cranbrook. That work is ongoing.
In addition to his selfless volunteer work, Cook and his wife Marilynne have welcomed 24 foster children into their hearts and home over the years.
Launched in 2015, the Medal of Good Citizenship recognizes individuals who, through exceptional long-term service, have made outstanding contributions to their communities without expectation of remuneration or reward. The medal reflects their generosity, service, acts of selflessness and contributions to community life. For a full list of this year's deserving recipients, visit this page.