Thread the Needle in Golden, B.C., gives your gear a second life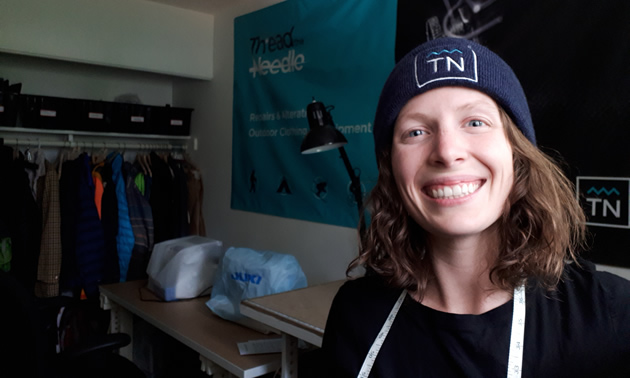 Noemie Roy, a professionally trained seamstress and owner of Thread the Needle, provides Golden and the surrounding area with professional sewing repairs that make outdoor gear more durable while reducing the amount of equipment being thrown away. Roy moved to Golden from Montreal in 2017, and soon realized that sewing services were lacking in Golden. Many people had to replace their damaged outdoor gear for new equipment. The company contributes to reducing consumer waste by offering repairs on goods that would get thrown away, recycling fabrics, keeping electronic files instead of paper and prioritizing the power of the bicycle for product transportation.
Roy enjoys bike touring and knows how it feels to deal with damaged gear on the road. Her favourite service to offer her clients is the emergency repair service, with repairs guaranteed in less than 24 hours.
"Two years ago, I biked 7,000 kilometres across Canada with my father over the course of three months, riding about 95 kilometres each day, so naturally our gear wore out pretty quickly," said Roy. "When going into bike shops, we always were accommodated quickly as bike technicians would make us a priority and it always felt great to get such a quick service. When on a trip, you may not have much time to waste and will probably buy something new instead of waiting a week for a repair. With the 24-hour repair service, you can get it done quickly while enjoying a rest day in Golden."
What surprises Roy the most is that sitting at her sewing machine is not her main occupation. She spends a number of her business hours at tasks like marketing, bookkeeping, ordering supplies, answering emails and phone calls, sending estimates and invoices, and meeting with customers.
For more about Thread the Needle, visit its website.