Nelson Innovation Centre brings tech community together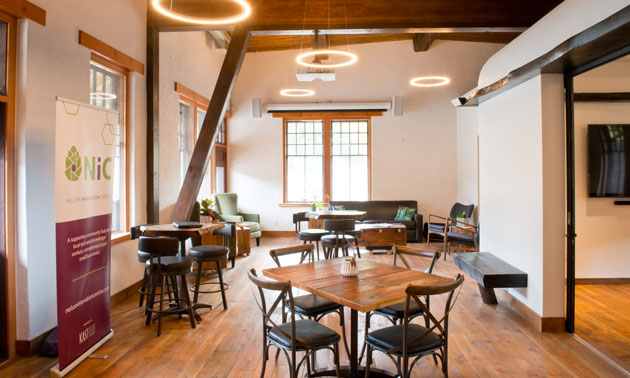 Quickly emerging as a tech sector hotspot, the West Kootenays has enticed countless technology companies, innovators, entrepreneurs and professionals to set up shop in the area. It's estimated that over 7,000 tech workers reside in the region. With the recent opening of the Nelson Innovation Centre (NiC), those workers now have a true community hub to call home.
The centre, managed by KAST (Kootenay Association for Science & Technology), is the culmination of years of hard work by Nelson's business and technology community.
"The Nelson Innovation Centre started off as a true grassroots effort by some highly engaged individuals like Brad Pommen and Nichola Lytle and it's great to see it finally come to fruition," says Andrea Wilkey, Executive Director of Community Futures Central Kootenay.
Located in the heart of Nelson's Railtown district, NiC is housed in the same building as the city's Chamber of Commerce—the historic CP railway station. Featuring a contemporary yet rustic design, the innovative space melds historic details like the original lathe ceiling and a massive railway bridge girder with modern touches like laser-cut local wood and custom furniture.
Said Nelson Innovation Centre manager, Karen Kornelson, "We can't wait to welcome people to this incredible space; a stunning community hub that visually merges the wild, rugged and earthy Kootenay landscape with modern technology."
NiC features a state-of-the-art boardroom—The Station—that is the central anchor of the space. An ideal spot for brainstorming sessions, meetings and workshops, The Station is fully equipped with fibre-optic internet, Owl 360 Video conferencing, a 75" Smart TV with Apple TV, Chromecast as well as a custom boardroom table for groups.
A flexible workspace, known as The Hub, is designed as an attractive community space where tech and tech-enabled entrepreneurs and businesses can network with each other, meet with clients or collaborate on projects. Private workbooths for video conferencing are available as well as leasable office space for tech companies.
Serving tech companies, professionals and innovators in the West Kootenay, from Nelson to Kaslo, Salmo to the Slocan Valley and Castlegar to Trail and Rossland, NiC will also serve the entire Kootenay region with virtual concierge support.
Due to the current situation with COVID-19, KAST has implemented practices to ensure the health and safety of employees, clients and visitors to the Nelson Innovation Centre. Operating at a reduced capacity, the centre will be open on an appointment-only basis, Tuesdays to Thursdays from 10 a.m. to 4 p.m. Bookings must be made online and in advance if you'd like to visit the space.
NiC will be free for all users in July and August. Beginning September 1, 2020, there will be a daily flat rate fee of $10. KAST members will have free access. For those interested in a KAST membership, please visit www.kast.com/membership.