Meet Nelson's new police chief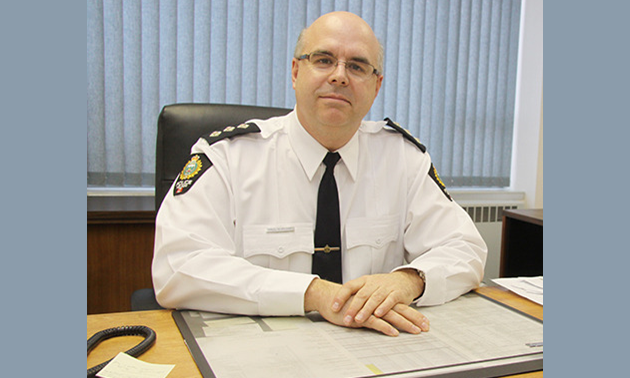 Paul Burkart was promoted from within the ranks to be the Nelson Police Department's new chief. The former deputy chief has been with the NPD since 2000, after spending five years with the Calgary Police Service. Burkart has worn many hats during his career in policing and knows the Nelson community well, both of which he believes will aid him as the new chief. Burkart started his new position on January 29, 2016.
We caught up with him and asked a couple of quick questions.
What kind of changes do you plan to bring to the police force in Nelson? What's your first move?
Our first move was to reintroduce a beat officer. With the retirement of the Chief Holland, we have decided to temporarily shuffle our resources to put more emphasis on the street. With the majority of our calls occurring within a few blocks' radius of the downtown core, we are looking at beefing up our downtown presence. Although we have assigned one officer to the beat, we are also encouraging all of our officers to walk the beat when time permits.
What has been a highlight of your time in Nelson?
I certainly have had a number of highlights that jump to mind. My time as a detective in our general investigative section and the arrest of the bank robbers in 2014 are two, but one of my absolute favourite highlights has been teaching DARE (Drug Abuse Resistance Education). I have worked with some of the most supportive teachers and principals, and of course my time with the students has been inspirational. The feedback I receive from the schools, the parents and the students has been amazing. In a community like Nelson, I have established connections with the students for life, and for parents, it is not a question of how they are going to approach their children about making decisions about drugs and alcohol, the children are now coming and talking to them about these decisions. To me, it is a win for all parties involved.