Housing projects create affordable homes for Kootenay-area residents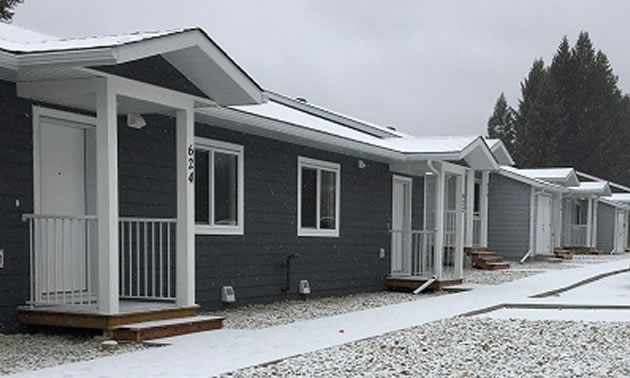 The scarcity of affordable housing is at a crisis level in British Columbia. To help address the issue, the provincial government has curbed speculative demand in B.C.'s housing market and is helping to build 114,000 affordable market rental, non-profit, supported social housing and owner-purchase housing through partnerships.
In Kimberley, the recent opening of the New Pioneer Lodge created affordable housing for local low-income families and seniors. In the works for almost four years, the project was a partnership between the Province, the Government of Canada, the Columbia Basin Trust and the Kimberley Seniors Project Society. The building includes six two-bedroom units and six three-bedroom units.
Rick Rausch, president of Kimberley Seniors Project Society said, "There has been a longstanding need in Kimberley for affordable housing for low-income families. The completion of this project is a good start towards meeting this need."
Affordable housing projects planned across the Kootenays
Several Kootenay communities have housing projects on the go:
Fernie: Fernie Family Housing Society's (FFHS) North End Court project aims to provide mixed affordable housing for families, singles, seniors and people with disabilities. The 49-unit development consists of 35 apartments and 14 townhomes, adjacent to Tom Uphill Manor and École Isabella Dicken Elementary School. They anticipate welcoming their first tenants by early 2021.
Cranbrook: Redevelopment of a BC Housing-owned property, located at 126 and 130 21st Ave. S, will provide affordable housing for low- to moderate-income individuals, families and seniors. Four units will be available for people with disabilities. Construction is anticipated to start by spring 2020.
Cranbrook: The Chief Agnes McCoy Centre will be a mix of below-market rent and low-cost homes for Indigenous families, Elders, seniors and individuals. The three-storey wood-frame building, located at 619 Sixth St. NW, will include one-, two- and three-bedroom units.
Nelson: Nelson CARES (2 projects). Redevelopment of Lakeside Place will create 47 units of affordable rental apartments for seniors (55+) and people with disabilities. The Hall Street Development will provide studio, one-bedroom, two-bedroom, three-bedroom and accessible units within a four-storey apartment and townhouse complex, plus office space. Completion is expected by fall 2020.
No connection between affordable housing and declining property values
Supportive and affordable housing developments often prompt opposition from neighbouring property owners, concerned about plummeting market values. Despite the idea being debunked in the past, BC Housing recently commissioned a study of 13 housing developments across the province and their effect on neighbourhood property values over five years.
The study found that in the majority of cases, property values surrounding the study site typically either mirrored or surpassed similar housing in nearby municipalities.