Get your creative fix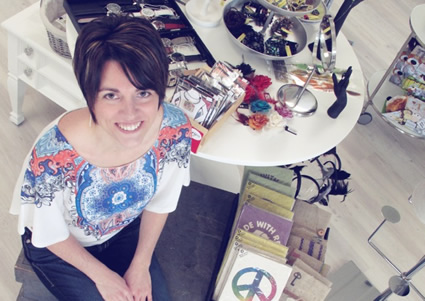 Brandy Dyer has been a staple in the Creston art scene for many years. Her business, Imagine Ink, is a successful graphic design and print shop.
Additionally, she creates and sells her own playful works of art, often using inspirational words and mixed media, and maintains a blog titled Brandy Ink.
Dyer has also been busy renovating her 10th Avenue North shop location. In May she opened the doors to an expanded side of the business. Named Creative Fix, the idea is that this funky new shop will cater to the creative side of everyone. Wares vary from hats to clocks, jewelry to teapots. It's a great place to browse for gift ideas, or get lost contemplating your dream home design.
Creative Fix also satisfies another craving. A variety of iced and hot drinks are sold (either with espresso or without). Deliciously fun flavours such Campfire S'more accompany the more common choices on the menu.
Dyer hopes that her expanded business will offer a place for people to meet, browse and feel satisfied on several levels.
"We've got so many fun things to take a look at," said Dyer. "If you haven't already come by, do stop in!"