Jennifer Mitchell will brighten your day
The owner of White Ladder Painting and founder of Build Train in Fernie, B.C., parlayed a summer job into a rewarding career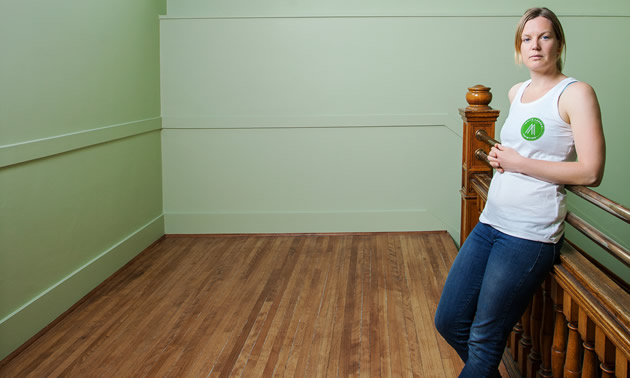 The trades might still be considered a male-centric line of work, but that hasn't stopped Jennifer Mitchell. She is the owner of her own painting company, White Ladder Painting in Fernie, and the founder and now member of Build Train, an umbrella company of building sub-trades (insulation, drywall and painting).
Mitchell's 40 Under 40 nominator describes her as both caring and professional, and had this to say about this rising star and her company: "White Ladder Painting offers others in the Elk Valley a stable, sustainable and supportive environment in which to work and thrive while living in this beautiful town. While efficiently running her business, she selflessly supports her employees and goes above and beyond for the town, her business employees and local contractors. She works tirelessly to maintain an extremely high standard (in) what is still mainly a male-dominated trade. She has single-handedly built up an excellent company."
We asked Mitchell a few questions and here's what she had to say.
How did you come to choose this line of work?
It was a summer job while I was living in Ontario, which fit so nicely into winter ski season in Fernie.
What is it about your work that has you excited to get out of bed in the morning?
I like working with everyone—White Ladder staff, Build Train members, suppliers, customers, my business coach and all the other tradespeople we see daily. There is a lot of banter and good chat in this line of work.
Where do you like to spend your downtime in the Kootenays?
In the trees either on my skis or my bike. However, more recently, I love being with my infant son!
What has motivated you throughout your business journey?
The "yes" moments, from the small daily wins to the big-goal achievements.
What makes the Kootenays attractive to an entrepreneur?
Entrepreneurs in the region may not have a massive local populace from which to draw their customer base. Instead, we have people looking for the authentic, interesting and brave, which keeps all of us entrepreneurs encouraged to be our best.
What trends have you observed in your community that might impact the local economy in the next five years?
The Kootenays are a melting pot of adventurers from across Canada and around the world. These adventurers are looking to own and support those businesses they feel represent their ideals, lifestyle and local culture.
Did we miss anyone? Meanwhile, if you think we missed someone who should have been nominated, we'd be happy to consider them for inclusion on next year's list. Click here to nominate your pick for the 2018 40 under 40 list.
2016 40 Under 40 List See who made the 40 Under 40 list in 2016.