Autumn Grossutti: Bold is best
Betty'z Edje Boutique in Nakusp is a dream come true for this independent businesswoman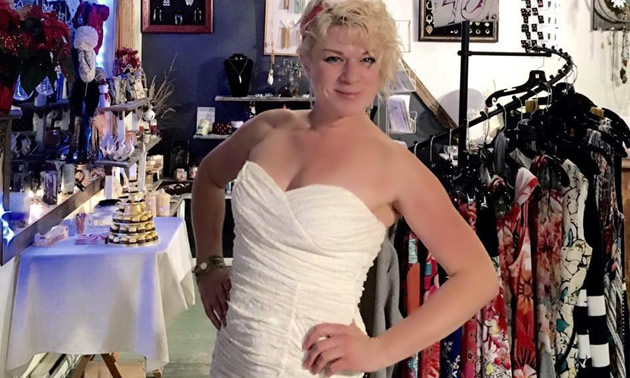 Autumn Emerald Grossutti, the owner of Betty'z Edje Boutique in Nakusp, describes herself as a "mompreneur."
It's an apt description—she is a mother and an entrepreneur with a business that recently moved into a larger, more desirable location near the community's main street. She is also an independent woman who prides herself on being able to do her own carpentry and plumbing for the most part.
Asked if there was any particular meaning behind her gift shop's moniker, she said that history is full of strong women with that name. "Many bold women have been named Betty," Grossutti said.
"And everyone's got an edge—something they're good at."
This successful businesswoman with a strong, beautiful name of her own answered a few questions for Kootenay Business.
How did you come to choose this line of work?
I have been making my own money since I was 12, and after working for many different companies, I wanted to create my own.
What is it about your work that has you excited to get out of bed in the morning?
Betty'z Edje is a beautiful and interesting artisans' boutique, showcasing many talented artists/craftspersons from all over the Kootenays, as well as fun, fresh import fashions. (The shop) is nestled into one of the most beautiful little towns in the central Kootenays (even the world!). Nakusp is a great place for everyone.
Where do you like to spend your downtime in the Kootenays?
My time spent away from work is with my daughter, biking, cross-country skiing, swimming or just hanging out.
What has motivated you throughout your entrepreneurial journey?
My motivation comes from all over. I love where I live and want it to grow and flourish in the most beautiful ways it can. I want the people who visit Nakusp to say, "Wow, what great shopping!" or "What an awesome town!" I believe Nakusp is the gem of the Kootenays.
Did we miss anyone? Meanwhile, if you think we missed someone who should have been nominated, we'd be happy to consider them for inclusion on next year's list. Click here to nominate your pick for the 2018 40 under 40 list.
2016 40 Under 40 List See who made the 40 Under 40 list in 2016.