Building dream homes
The two brothers who own Ram Creek Log Homes, based in Jaffray, B.C., love making people's dream homes a reality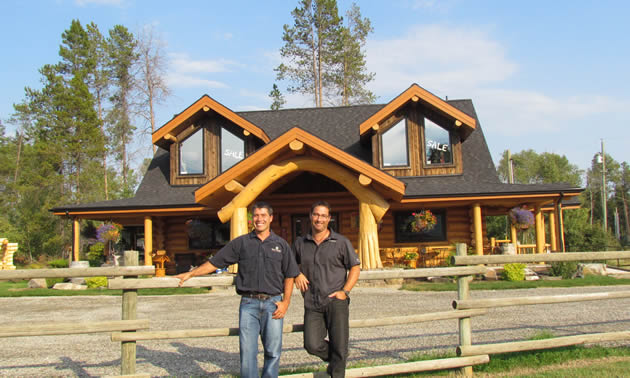 Ram Creek Log Homes builds custom log, timber and conventional houses of any size. The two brothers who own the business, Travis and Clayton Fahselt, take great pride in their work and love to work with clients on their projects. Based in Jaffray, B.C., they have a great crew with many different skill sets and they really enjoy building homes.
What do you like most about your job?
Travis: I like building and organizing the projects and seeing the finished project after all the hard work and time. It's very rewarding to see clients move into their dream home that we have created together for them.
Clayton: What I like most about building and construction is the variety. There are a lot of different jobs and skills needed to build a house, and that's what I enjoy most about it.
What is your number 1 passion outside work?
Travis: The last couple of years I have been competing in triathlons and fly-fishing.
Clayton: I love to hunt and spend time with family and friends quadding.
What was your first job and what was one thing you learned from it?
Travis: My first job was working with my dad, who also had a construction business in Jaffray for 21 years, and I learned to work hard.
Clayton: My first job was working at Galloway Lumber and I learned a lot from there, but the most I took from that job was I needed variety in my day.
What's something that people might be surprised to learn about you?
Travis: I actually went to SAIT for mechanical engineering technology and worked for a company called Motion Industries in Calgary as the technical manager for about eight years.
Why did you choose to get into this business?
Travis: We wanted to move back to Jaffray, as we love the area and enjoy what the area has to offer, and the opportunity presented itself when we purchased the company from our aunt and uncle. I have always enjoyed building as well, so it was time for a change.
Clayton: I've always liked building things, even when I was young, so it seemed like the right career path for me. I worked for Ram Creek Log Homes for my aunt and uncle and when Travis decided to move home, we were able to purchase the company together, which seemed like the right step at that time.
What advice would you give to someone going into business?
Travis: It's a huge time and financial commitment, but if you work hard you will have success.
Clayton: Work hard and try to make good decisions that will help your business succeed.