The business of body movement
Brian Riemer is a physiotherapist and the owner of Evergreen Sports and Physical Therapy in Trail, B.C.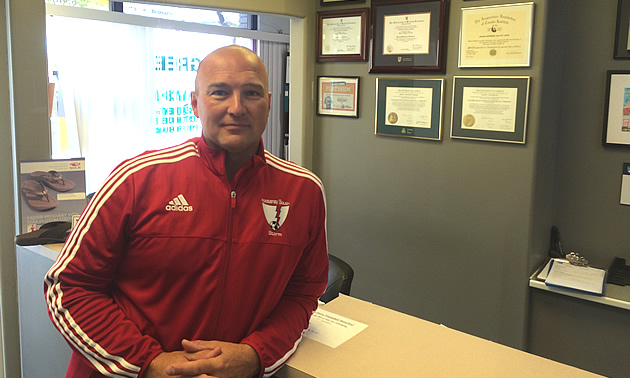 Alleviating pain and helping people heal their bodies are what Brian Riemer and his staff do best at Evergreen Sports and Physical Therapy. This clinic, which is located in Trail, B.C., has been serving the West Kootenay since 1996, but it wasn't until Riemer bought the business in 2001 that it grew to include four (soon to be five) physiotherapists and a massage therapist/kinesiologist. Over the years, Evergreen has also been voted a favourite among readers of Kootenay Business magazine.
Here, we ask Riemer a few questions about his background and personal life:
Prior to owning Evergreen, what did you do for work?
After graduating from the University of Alberta in 1997, I worked in two hospitals, the WJ Cadzow Hospital in Lac La Biche, Alberta, and the Kootenay Boundary Regional Hospital in Trail.
What was your first job, and what did you learn from it?
My very first job was being a busboy at an Earl's restaurant in Edmonton, Alberta. I learned how to work quickly and efficiently and how to interact with others (the public and co-workers) in a high-paced, high-pressure environment.
What is the best compliment your business has received?
Many patients have told us that Evergreen is a relaxed and friendly place to come. Winning the Best of Business award for the past few years is also a great compliment.
What is your favourite part of the day, and why?
My favourite part of the day is the early morning. I will usually be up at 5 a.m. (the clinic opens at 6 a.m., but I'm up that early on my days off too), and I enjoy the quietness of the morning to collect my thoughts—and have a tasty latte, of course.
What is the best book you've read in the last six months?
I enjoy the world of aviation and hope one day to get a private pilot's license, so the best book I recently read was Ask the Pilot by Patrick Smith. I enjoy reading nonfiction much more than fiction.
What is your No. 1 passion outside of work?
My No. 1 passion outside of work is my family. I have a beautiful wife and two great kids (13 and 15 years old). I coach or have coached my kids in soccer and hockey. In addition, I'm involved on some boards. I really love good coffee, too!