Sunshine and flavour
A bright cheerful atmosphere with home cooking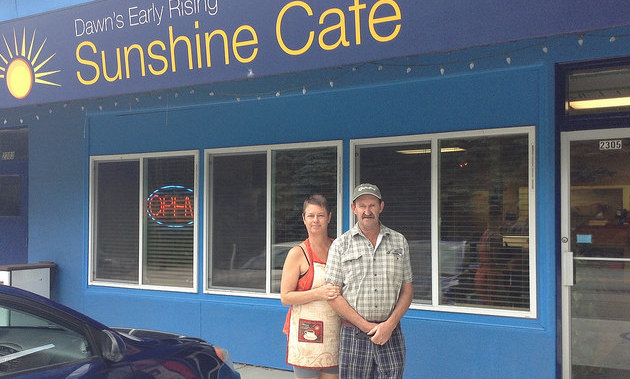 Tom and Kathy Frauley, owners of Dawn's Early Rising Sunshine Cafe in Castlegar, B.C., strive to create a family atmosphere in their bright café. They treat their guests as if they were company coming to their home for a family meal. Tom and Kathy make a great team as he cooks savoury—Kathy says you really must try his barbecue specailties— while Kathy concentrates on baking and desserts.
Kootenay Business asked the Frauley's about their café.
In a couple of words, how would you describe your restaurant's personality?
Eclectic, bright, cheerful and full of flavour! For starters, we have three outdoor patios with fruit trees, various flowers and sunshine all day—thus the name. We cook as we would for our own families. We try to treat our customers as our actual company who've come visiting. Our regulars intermingle between tables and new visitors aren't afraid to ask the next table what's good, as you would at your friend's place. The decor is very bright and full of gifts, garage sale items or personal purchases we like to see around us. There are so many reasons we are unique. We work our own business so everything has a personal touch. We can offer a personal experience for most of our customers. No one can operate our place like us! We also have Weezie's guidance from the now closed world-famous Weezie's Borscht Hut, the best Russian borscht and pyrahi around. She was the first to pioneer Doukhobor borscht and other favorites in the Castlegar area on a large retail scale—for 12 years.
If you could travel to any country in the world for the cuisine, what would be your top choice, and why?
Travel isn't necessary to really enjoy fabulous food with genuine people.
Do you have a favourite cooking show, celebrity chef or cookbook; what do you like about them?
We, Tom and Kathy, live and cook outside the box. We personally try to ensure, as my grandmother taught me, to love food, to enjoy being in the kitchen, and to please all who sit at our table.
What do you most like to cook now (are you a sweet or savoury kind of person)?
Tom is savoury (the barbecue master); I am sweet (the baker). A pretty good combo for a working married couple we think. Sixteen years year of dreaming, building, working together and still smiling together—mostly (lol)!
What is the best meal you have ever had?
Well, unfortunately we are difficult to please when we are dining out, so I will have to say Tom's beef burgers or barbecue steak right here at home would have to be my answer. Every time. Not saying my cinnamon buns aren't pretty amazing also—yes, they are a meal.