Shoes for the Soul
Ian and Deanna Franklin have found their passion through running a quality shoe business in Nelson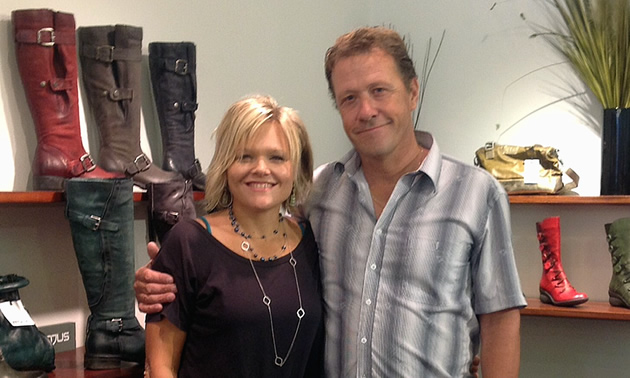 Shoes for the Soul, owned by Deanna and Ian Franklin, has been serving Nelson, B.C., with high-quality shoes and boots since 1998. A newly launched website also provides customers with an online store and free shipping. Beautiful shoes and excellent service have helped make Shoes for the Soul one of the Best of Business Award winners for 2014. Here, Deanna tells Kootenay Business about life as a small business owner.
What was your first job and what did you learn from it?
I starting working for my dad at Orange Julius when I was 9 years old. I made drinks and washed dishes for $1 an hour. I learned how to work hard and that being the boss' daughter was going to be tricky. Little did the (other employees) know that my dad was harder on us, his kids, than on the rest of the staff.
What's your passion outside of work?
Our business takes up a big part of our lives. We have a young family, so time outside of work is spent with our kids and the rest of our family.
Can you offer some advice to anyone just beginning their business venture?
To anyone beginning a business, I would say to find people who excel in business and then learn from them. Stay humble and teachable. Be quick to change something that isn't working and move on.
What do you like most about your job?
I love doing the buying. I love finding great products, and then I love selling them because I believe in what I'm selling. I feel most satisfied when customers leave our store happy with their experiences with us.
Why did you choose to get into the shoe retail business?
I grew up working for my parents in their shoe store. I knew then that I wanted to have my own shoe store. In fact, my parents have worked in our store all along. It's been amazing; I love working with them.