The owners of Style Trend Clothiers put family first
Style Trend Clothiers in Revelstoke is run by two people who are passionate about clothing and spending time with their two kids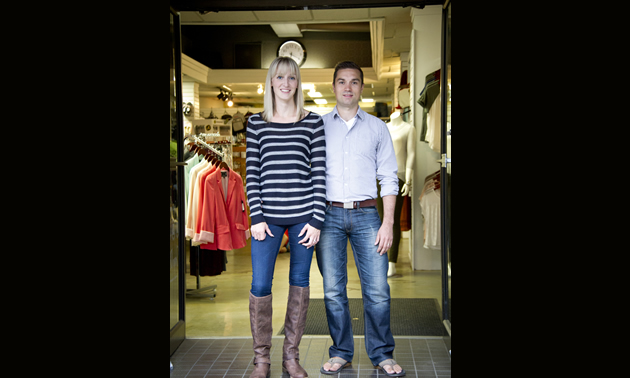 Style Trend Clothiers is experiencing success in the clothing business in Revelstoke, B.C. With a great selection of women's and men's clothing and accessories, they truly do have something for everyone. You can find an amazing selection of new styles and a wide variety of exciting brands.
Owners Diane and Stephen Bull have now taken their store a step further and are increasing their online presence. Over the last year, they have concentrated on the online world and have spent a lot of time building their business through social media.
Diane was born and raised in Revelstoke and Stephen moved there from Saskatchewan. The couple have two young children, ages 10 and 6, whom you can often find wandering around the store "helping."
The couple said they feel very lucky to have found some talented people in Revelstoke to work with and have an amazing team behind them. Sarah Mickel Photography, jordan.eadie and Film + Foto are involved with all the projects you will see throughout Style Trend Clothiers' social media and website—and the Bulls say they have a great in-store staff that they are very thankful for.
What's something that people might be surprised to learn about you?
Between the two of us, we had zero retail experience when we got into the store. It was a leap of faith, but definitely worked out so far.
What do you like most about your job?
Although there are several things that we love about our jobs and this store, I think what we like most is the flexibility it gives us. We are able to sneak away and enjoy the things that are important to our family, which is big for us. We're able to choose our priorities and not miss out on sharing some great times with our kids while they're still young.
What is your number 1 passion outside work?
Our kids, who are both very active, tend to keep us busy most of the time! Any free time we think we have is either spent in a rink somewhere for our son's hockey or at the barn with our daughter's pony.
Why did you choose to get into this business?
Before getting into Style Trend Clothiers, we looked at a few different options and this just seemed to be a good fit for us. The store had been in town forever so we were very familiar with it, which helped. It offered us both an opportunity to work within the business at different aspects that interested us individually. While we work together on the buying, Stephen concentrates more on customer service and overseeing the daily operations and I do more of the behind-the-scenes stuff—the bookkeeping, marketing, etc. It's a tricky thing, going into business with your spouse, but once you find the balance, things are great.
What advice would you give to someone going into business?
Work hard. I know sometimes it's not easy, but you have to have a passion for what you're doing and be willing to give 110 per cent.