MountainHigh Lighting Designs: a bright business
Michael Flood and Carol Pears of MountainHigh Lighting Designs have found a business niche that utilizes their passions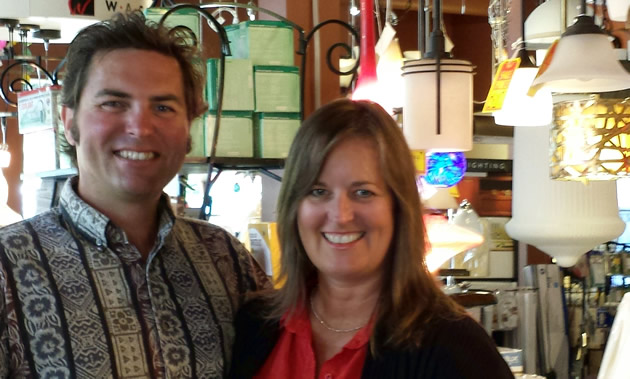 Michael Flood and Carol Pears have kept the West Kootenay in the light since 2006 with their business, MountainHigh Lighting Designs. As Best of Business award winners for 2014, they've scored highly with Kootenay Business readers. Pears took some time out of her busy schedule to tell us about the business and the couple's background.
Tell me about MountainHigh Lighting Design.
MountainHigh Lighting was started in 2006 as a home-based light design/advice company in Rossland. We were particularly interested in the new LED technologies and were quite involved in the green-building world. Our background is in the TV and film industry, and we really wanted to use the knowledge that Mike, in particular, had with the effect of lighting. So much about lighting is in the placement of the correct type of light, and we were thrilled to offer that to our clients. We had so many requests to have a showroom where people could come and look at product and get help with their lighting that we decided to open shop in the centrally located Castlegar.
What was your first job and what did you learn from it?
My first job was selling shoes. It enabled me to make some money to buy the things every teenager is looking for—like discounted shoes! It also helped me understand that making money was important, but doing something you enjoyed was even better.
Mike's first real job was in a metal fabrication shop producing items such as a light reflection box for a musical called Show boat. The light effect from the box was enough to really inspire his desire to work with lighting in some capacity. It opened the door into the world of film for him.
What's your passion outside of work?
Outside of the shop we are all about family life. The three kids have done awesome in their free-ski events over the last six years they've been involved. We love having that family time at the hill, both home and away. In the summer it's all about camping and water sports. The Kootenays offer so many great outdoor options to reconnect with nature and allow a chance to renew ourselves for our business.
Can you offer some advice to anyone just beginning their business venture?
Be sure to choose something you love to do. This comes across to your clients and they are the ones who are key to your success. Listen to what people want and really try to fulfill those desires. Perseverance is most helpful too! Just remember, change is the only constant in life, so you may as well embrace it.
What do you like most about your job?
What we love most about the business is helping people solve their lighting problems. There is great satisfaction in knowing that products chosen for a particular situation can make our clients happy for years to come. Lighting is one of those things that people don't change out very often, so making sure to guide a customer to the right one is important to us. Mike also loves refurbishing a treasured old lamp into a safely working light that can be released from storage and showcased.
Why did you choose to get into the lighting business?
I feel like we didn't really choose this business—it chose us. Mike found a great area to raise a family and ski in and we just needed to figure out how we could survive here. We noticed the need when we started doing renos to our home. With our background in the world of film and TV, lighting was the one thing we did know—learning retail was a whole new world to explore.