Good coffee and good people at Jogas in Grand Forks
Owners Roger and Donna Soviskov of Jogas Espresso Cafe always go the extra mile for their customers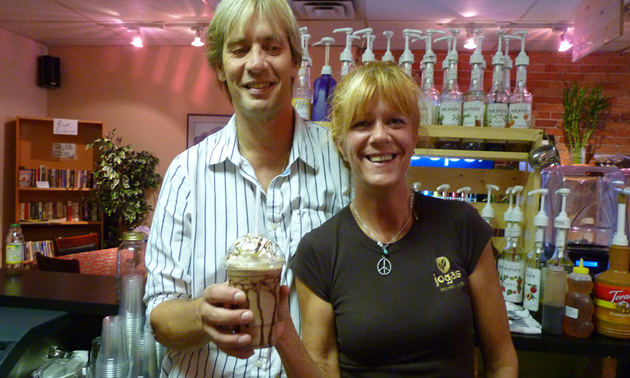 Roger and Donna Soviskov have lived in Grand Forks, B.C., for over 40 years. They are the proud owners of Jogas Espresso Cafe, a family business in which two of the couple's five children are currently employed.
It was when Roger's employer, Canpar, shut its doors that the couple decided to open up their own business. Jogas is located in downtown Grand Forks and displays local art and photography and features Oso Negro coffee from Nelson, B.C. They serve fourth-generation Doukhobor borscht, specialty coffees, espresso, lunch specials, all-day breakfast, milkshakes, soft-serve ice cream and tons of fresh baking every day.
Donna took some time recently to answer some of our questions.
What do you like most about your job?
The people. Our customers and staff are awesome.
What is your number 1 passion outside of work?
My two horses.
What was your first job and what was one thing you learned from it?
Back in the Ice Age I got a job rollerskating and taking people's orders at a Tasty Treat. It's not so fun when you don't know how to rollerskate—I lasted a day. I learned that you should make sure you have all your ducks in a row before you take a job.
What's something people may be surprised to learn about you?
We have five children and 13 grandchildren. We just found out the other day that number 13 is on the way.
Why did you choose to get into this business?
I always thought it would be fun to own my own business. The opportunity came up when my husband lost his job and we were going to have to move up north—and I don't do cold. I worked here before under the previous owner and I just loved it, so when it came up for sale we decided why not, we'll give it a shot. Now, four years later, we're not doing too shabby.
What advice would you give someone going into this business?
When we first got into business they told us our biggest headache would be staff and keeping good staff. It's so true. It is so important to find the right group of people to work for you so you can become just like a family.
Customer service is also huge. It brings people back. We have people coming back every year on their holidays that stop specifically at Jogas because we've been good to them in the past. We try and drill it into our employees' heads to always go the extra mile for our customers.