High praise for service
A focus on customer service wins customer approval for Revelstoke Home Hardware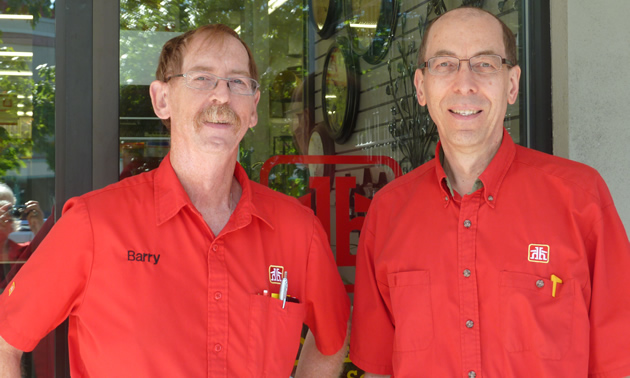 Brothers Barry and Gerry Ozero are owners of Home Hardware in Revelstoke, B.C. Their store won high approval in Kootenay Business magazine's Best of Business survey, and Gerry gave us some insights on this achievement.
Why do you think our readers gave you such a high rating?
Good staff. Home Hardware is pretty strong on service, and we emphasize that to the staff.
Can you describe your favourite type of customer?
I like the tough ones—customers who are hard to satisfy or have an unusual product request. We appreciate the majority of our customers, who want the stock that we already have on our shelves and are satisfied with the pricing. When we do get a tough customer who is hard to deal with or has an unusual product request, and we can come up with a solution at a good price, then that's a situation that is especially satisfying for everyone.
Do you have a business philosophy that you can put into a few words?
All we need to do is keep the customers happy. We may not always have the item in stock, and it may not always be the lowest price, but when they know we're doing our best to make them happy, they will keep coming back.
Do you have a word of advice for someone starting in business?
Sure, my advice is: Do your homework! Remember that service is a priority in any business. Be 100 per cent prepared to have a good product and give good service. We hear lots of complaints about other businesses, and it's always about the service.
Can you tell me something about the benefits of working with your brother?
We have clear job division. Barry spends more time with customers and I spend more time with administration. You need to know your strengths and weaknesses and work with them. Having a partner allows each of us to walk away and know there is someone here who is responsible and taking care of things.