Golden rule at Bridge Interiors
Bridge Interiors of Cranbrook ranks high with East Kootenay furniture buyers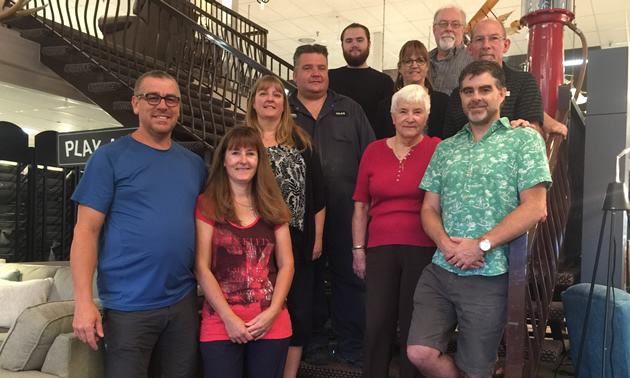 "You're only as good as the people that surround you," said Ken Bridge, owner of Bridge Interiors. "And I work with outstanding people."
What led you to become involved in this line of work?
Out of high school, I worked at finishing and custom building furniture, then I was at The Bedroom for 16 years. I opened this store in 1998.
What's a recent trend in your business that you're excited about?
It's pretty eclectic—there's an industrial influence that's popular right now, combining metal with wood and fabrics.
What aspect of being in business has surprised you?
There's no big secret—treat people how you want to be treated and life should be pretty good. The thing that keeps you in business is the people of the community, and we've been very fortunate over the years.
What kind of business-related workshop or seminar would be of value to you?
We do a lot of product knowledge training with the sales reps—the training usually comes to us.
What activity is your passion outside of work?
We do a little of many things: golfing, snowmobiling, snow biking, mountain biking, road biking, water sports, rafting, dirt biking. The Kootenays are an awesome place to live.