Fit for the West Kootenay
Bryan Beaudry and Minn Benedict help fellow West Kootenay residents achieve their fitness goals at REV Strength and Conditioning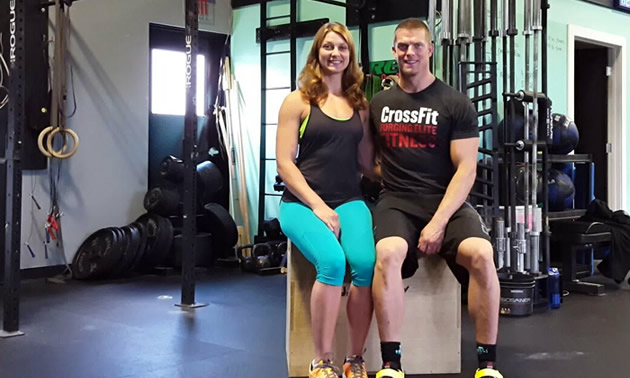 As the owners of REV Strength and Conditioning in South Slocan, B.C., Bryan Beaudry and Minn Benedict love seeing their members get the results they want. For them, however, fitness equates to more than just looking good. It's a way to improve the overall health of your mind, body and spirit.
Beaudry and Benedict have been fitness experts for years, but it wasn't until March 2014 that they were able to turn their passion into a business. In this Q&A, Benedict tells Kootenay Business what has surprised her and Benedict the most about owning and operating REV.
How and why did you get into this line of work?
I've been running fitness classes and personal training for 10 years. Both of us love working with people and helping them reach their goals. After falling in love with powerlifting, conditioning and Kettlebell training, we both knew this is what we wanted to do with our lives: to guide people through their journey to the best version of themselves and show them a way of training most people have never experienced. It is literally life changing.
What was your first job and what did you learn from it?
For me, it was working at Claire's Accessories, and for Bryan, it was doing cleanup in the meat department at Overwaitea. We both knew we eventually wanted to work for ourselves doing what we loved.
What aspect of running your business has surprised you the most?
The clients who have legit physical problems that they don't let stop them from achieving their goals. Some people have nothing wrong with them, but mentally they lack the discipline and courage to take control of their health. It seems like our whole gym is full of people who have amazing tenacity, and who don't let bumps in the road be their excuse for quitting and failing. We are proud of our members, from the elite athletes to the beginners.
What is the best movie you've watched in the past six months?
The documentary film Earthlings.
What is your No. 1 passion outside of work?
For me, it is my horses—training my three-year-old draft horse cross, which I raised from a baby. For Bryan, it is snowmobiling and riding sportbikes.