Farm-to-table freshness delivered at Biggest Little Fruit Stand
Biggest Little Fruit stand strives to have Kootenay families enjoy fresh, quality products all year-round.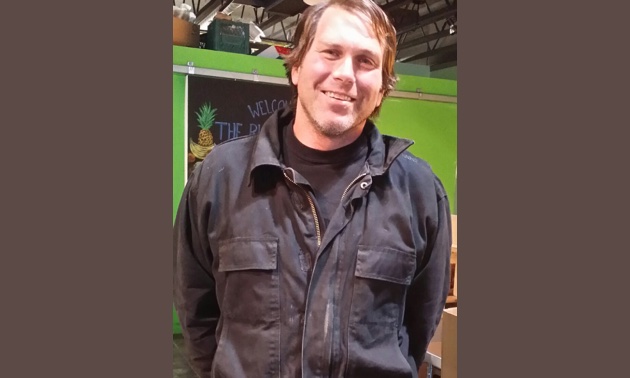 Jamie Latkin's Biggest Little Fruit stand started out with humble beginnings: selling Creston asparagus in Castlegar. He did this for extra money while studying in university, and then continued by starting a small road-side tent stand. This has grown into one full-time location with year round-delivery in Castlegar and three seasonal locations throughout the West Kootenay.
Latkin's love of the Kootenays and desire to share fresh, healthy food with the community has kept his business growing.
What was your first job and what did you learn from it?
My first job was me going to Creston to get asparagus to flip while I was playing volleyball and studying at University of Calgary. Due to training four hours a day, studying and travelling across Canada to play each weekend, I had to get creative to earn some extra money.
From this I learned how to sell and how to treat customers. But not only how to sell to potential customers—how to sell myself, because throughout our lives we are ultimately always trying to sell ourselves, ie. to banks for loans, potential jobs, schools and programs you would like to attend, to new friends, relationships, etc.
What's your favourite product or service in the store, and why?
My favorite product in the store is our Russian food that the ladies make in our commercial kitchen. All of the recipes have been passed down for generations to my mom and she just did an amazing job of introducing our line of Cranky Mom borscht, pyrahi, vareniki and fruit tarts. We have shipped our food as far as Saskatchewan. It's just so great to be able to introduce so many new people to these amazing recipes and to receive all the fantastic feedback, and to see them come back over and over again from all over the Pacific Northwest.
What aspect of running your business has surprised you the most?
How many younger people are more and more concerned about what they are putting in their bodies. It's great to see that there is such consciousness to not only eat more local and healthy, but ask what's in the products and where it comes from.
What is the best book you've read in the past six months?
Paulo Coelho's Aleph. His entire series is fantastic and has helped me focus on the present moment.
What is your no.1 passion outside of work?
Spending time and growing with my daughter—experiencing and learning about life together. She has taught me how to be a spontaneous kid again.
I also really enjoy backcountry skiing, mountain biking, swimming, fishing and spending time with family.