Dance on in Nelson
For instructors at non-profit studio Dance Umbrella, going to work is about so much more than earning a paycheque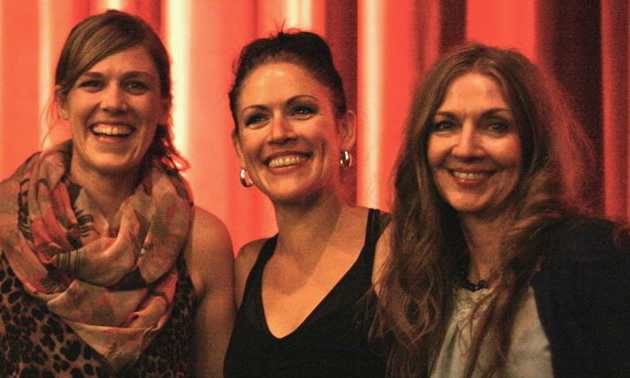 Nelson, B.C.'s longest established dance studio, Dance Umbrella, is a gold winner in the Best of Business Awards for 2014, the first year that Dance Instruction has been included as a category. This non-profit society serves approximately 200 students with a variety of dance genres including ballet/pointe, jazz/modern, hip hop, tap and partnering. Danielle Gibson is an instructor, administrator and board member with Dance Umbrella. The studio is proud of its role in promoting dance to the Nelson community for 18 years, she said. Gibson told Kootenay Business about being part of the organization.
Tell me about your own experience with Dance Umbrella.
I started as a student of the Dance Umbrella in high school. Sabbian Clover has been a huge influence and mentor for me since then. . . . I am in my 10th year of teaching with Dance Umbrella and second year of admin/registration. I teach jazz, hip hop, tap and creative dance with a total of 17 classes a week. Sabbian Clover is our artistic director and ballet, modern and partnering instructor. Lisa Schwab teaches ballet and modern/jazz. Siara Berkley is our secretary/board member. We also bring in guest teachers throughout the year to ensure our students get to experience all that the Kootenays have to offer in dance. We all share a passion for dance and instruction that cannot be matched.
What do you like most about your job?
There are so many wonderful things about my job, I don't know where to start. I love working with kids because of the high energy they bring to any classroom—especially one with a dance floor. Getting to know all of my students and their families over the years is an incredible privilege that I cherish. Last of all, the fact that I get to be active, creative and challenged by my job every day makes me so grateful that I live in a community that supports me to do so.
Why did you choose to pursue a career in the dance industry?
Dance has been a part of me since I first took classes when I was three years old. I believe that dance is the best way to keep your mind and body in shape, to express yourself in ways you might not (otherwise) be able to and to have fun doing it. When I was little if you asked me what I wanted to do when I grew up, I answered without hesitation, "a dance teacher." This was largely due to my childhood dance teacher, Evie Clare, a former Dance Umbrella instructor and board member. Being able to share with others my love for dance is incredible. Having it as my job is a dream come true.
Can you offer some advice to anyone just beginning a business venture?
Be passionate about it. Without a doubt, I wouldn't still be teaching if it wasn't what I loved to do. It's your passion and love for the most fundamental part of the venture that will get you through all the challenges that come with it.
What's your passion outside of work?
I love the outdoors. Having grown up in Nelson, I am most comfortable when surrounded by nature. Skiing, biking and hiking all are a part of my daily existence. But I wouldn't be able to work and recreate in this beautiful place if it wasn't for the support of my husband and family and the motivation to introduce my one-year-old daughter to it all—including the dance studio.