Replenish, refill and recycle at this West Kootenay business
Replenish—The Kootenay Refill Store aims to help people reduce their plastic consumption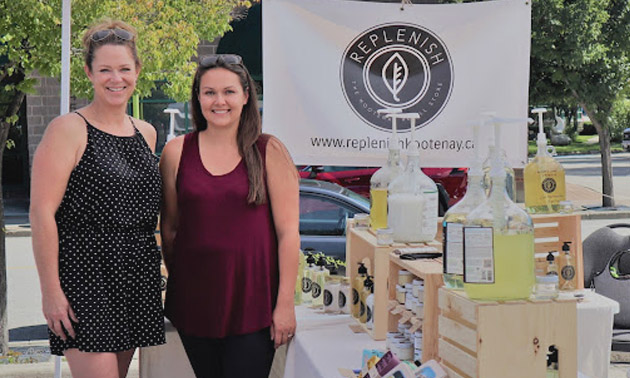 A mother-and-daughter duo in the West Kootenay are doing their part to help reduce local plastic consumption. Melinda Nealis and Kayla Carley are the owners of Replenish—The Kootenay Refill Store. By employing a unique business model that combines online sales and local delivery, the pair have already seen an amazing response to their company that only opened in June of this year.
"Our concept for supplying the Kootenay area was born out of necessity and a desire to reduce the impact of packaging of consumables in our world," said the owners.
How Replenish—The Kootenay Refill Store works
Replenish is an online store—there's no storefront. It features a wide variety of personal care and cleaning products, including items like shampoo and conditioner, toothpaste, dishwasher tablets, laundry detergent and bubble bath. All of their products are biodegradable, safe and environmentally-friendly.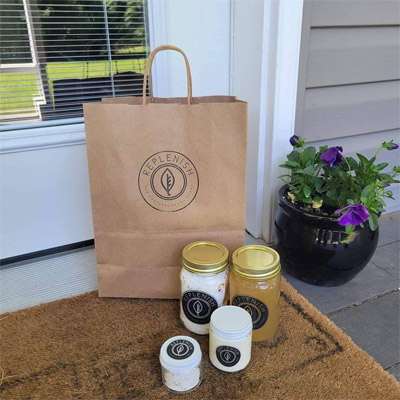 All products are available via the Replenish Exchange system. A variety of glass jars in small, medium and large sizes are available for purchase with a $2 deposit fee. When customers are ready to return their jars for refill, they simply need to leave the empty jars on their front steps and they'll be exchanged for full ones. The $2 jar deposit will also be refunded.
Local delivery is currently available in Castlegar, Slocan, Nelson, Trail, Rossland, Salmo and everywhere in-between. Delivery is free with orders over $20 in the local delivery area. Replenish also offers free Canada-wide shipping with orders over $50.
KootenayBiz chatted with Nealis and Carley about their refill business and their top tips for living a more environmentally sustainable lifestyle and reducing plastic consumption.
What inspired you to join forces as a mother and daughter team and start Replenish?
In a few words—passion, family and giving back.
We give back by empowering our customers to re-use our containers and embrace products that respect the environment. We refill our containers and save the waste of a throw-away disposable society.
At an early age, Melinda was taught to make use of everything around her on the family farm. Nothing went to waste. Her family grew their own vegetables, raised their own meat, picked berries and fruit from the land, and preserved and packed it all in Mason jars. Everything was made from scratch. For Melinda, Replenish is not only a business, it's a way of life and how she chooses to live it.
For Kayla and her two young boys, there's a need to instill [the values] of integrity, respect and responsibility for the environment [into her young family]. For her, being a mom is all about choices. Replenish is an extension of that home and lifestyle.
By coming together in business, we are able to spread that same passion with our families and give back to our communities through the very essence of what we believe in at Replenish.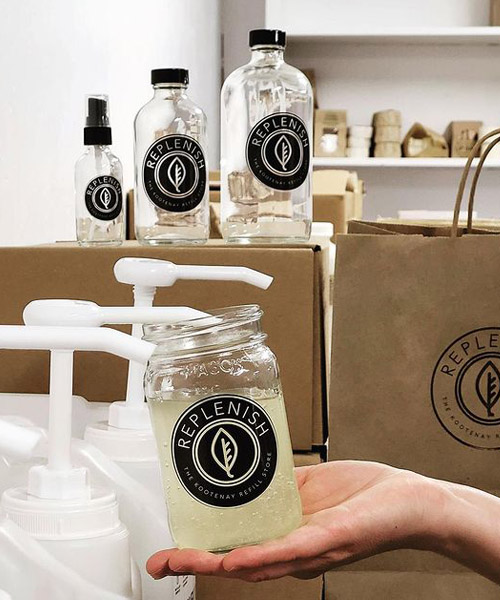 Are your products sourced locally?
All of our products are locally sourced. Most of our suppliers are wholesalers from British Columbia, with a few exceptions from across Canada. We take the time to source the very best products and share them with our friends and families. We are always on the look out to bring a new product online, but we take the time to try them out first to see how our families like them before we take them to market.
An online store and local delivery service for your products is a great idea. Has it been popular with the communities you serve?
The response has been amazing. As a refill business, it is important to find ways that help our busy clients in their lives. Local delivery-to-the-door services are one way to connect and help others to start living a more environmentally conscious lifestyle.
Some of our customers can't believe we deliver to their area. In our journey, we have met some amazing people and businesses that share our philosophy and we continue to explore new ways to get our product to market. We have had great support from the local communities we serve.
What are your most popular products? Do you plan to offer additional product selection in the future?
Hands down, our rosemary-orange blossom hand soap simply flies off the shelf! This is followed by our lavender hand soap and then the grapefruit dish soap.
We are looking [in] the near future to offer reusable feminine hygiene products, reusable snack bags and other items. Our customers also are a great source for new ideas.
Aside from your online store and delivery, is there anywhere else your products can be found?
You can find us at local trade shows and farmers markets in Salmo and Castlegar, where you can refill your products from our stock or try something new. We are passionate about what we do and want to share how you can make a difference in how your families consume products.