Growing with a lot of grit at Linden Lane Farms
A passion for plants has served Matthew Carr—a young farmer and entrepreneur—well.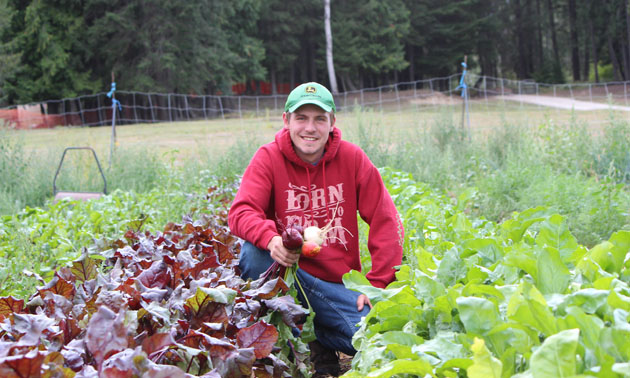 You need a little grit to be an entrepreneur—and you need more than a little to stick it out as a farmer.
Matthew Carr is both a long-time grower and business owner. He is the farmer behind Linden Lane Farms located in Krestova in the Slocan Valley, and he has plenty of grit.
A passion for growing
Still in his twenties, Carr has been farming for over a decade after getting started with a love of plants while still in high school.
"I got really interested in plant propagation through a biology experiment, and I created a backyard nursery," said Carr. "My father kicked me out of our backyard in Bonnington. People thought we were like a big garden centre."
As a kid with nothing but some grit and a new passion, Carr was lucky that his grandparents had gardens open up on their property. He moved his project and planted all the space at his grandparents.
"That year we planted out my grandparents' old garden with our nursery stock," said Carr. "We had some extra space available and there was a garden centre behind the old Husky. They were doing an end-of-season sale of 20 dollars for a pickup truck load of vegetable starts. Me and my sister loaded up two pickup truck loads and plugged in plants wherever we could find space."
When he started Grade 12, Carr left behind thousands of pounds of produce as he was moving to Fernie to play hockey.
However, even though he was pursuing sport in another town, his summer experiment had sealed his fate and his future.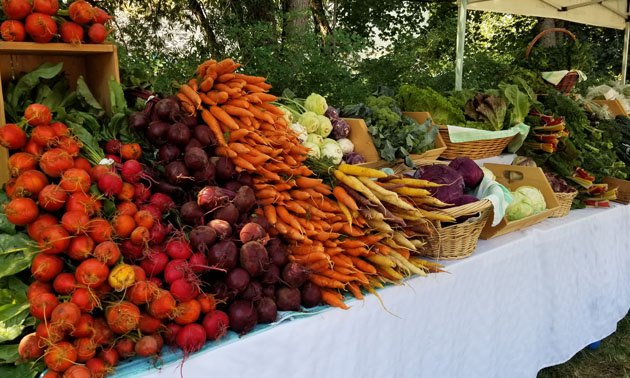 Every year, a colourful array of fresh vegetables is grown at Linden Lane Farms. - Photo courtesy Linden Lane Farms
A growing strategy
Carr's sister was his first employee, and it quickly became a family operation as he hired his parents and his grandparents.
Meanwhile, Carr himself started college courses in horticulture while still finishing up high school. As he studied botany and soil science he began to realise that a vegetable operation could be a viable business alongside the nursery production.
"With nursery stock, it can take two or three years before you can see a return on that product, and so I was getting our cashflow tied up in inventory," said Carr. "With annual vegetables, it was a quicker way that I could get more cash so that I could invest in infrastructure such as fencing, irrigation and greenhouses."
Carr went on to earn a horticulture science degree with a soil science minor from the University of Saskatchewan, all while continuing to own and manage Linden Lane Farm.
Meeting the customers
Today, Linden Lane Farms is a diverse market garden on ten acres. It is also true to its roots and, in the spring, operates a large edible-only nursery.
In order to meet the needs of its customers, Linden Lane Farms sells through a variety of models. Its products are available at farmers markets and retailers, as well as through the farm's three community supported agriculture (CSA) programs.
The farm has also recently opened a farm stand, which has grown in popularity over the winter and will certainly gain more traction throughout the growing season.
"I think our farm has grown because I've paid attention to what my customers have asked of us over the years," said Carr. "Their feedback is invaluable to me and being able to interact with them two or three times a week (at the farmers markets) is amazing . . . that connection to all of my customers and those relationships that I've built is really special."
There are also some fun initiatives that help to market the farm. Every fall they host the Pumpkin Fest, a four-day event that sees thousands of people visit the farm for vendors, U-pick and fall veggies.
Customers can also sign up for the farm club, or can participate in a market-card system. Both these loyalty programs help reward loyal shoppers with discounts or other perks.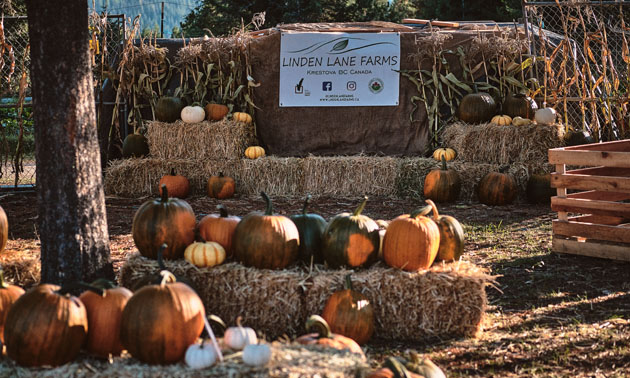 Marketing the farm can be fun when it comes to popular events like the annual Pumpkin Fest. - Photo courtesy Linden Lane Farms
Lots on the stove
So far we've identified that Matthew Carr and Linden Lane Farm have a lot going on—but that's not the half of it.
Carr is also an agrologist—see sidebar below. His own farm hires fourteen employees, most of whom are young. He is involved in Young Agrarians and the Kootenay Local Agricultural Society, as well as other organisations.
"We've got a lot of different things on the stove, but we're really excited to help people grow and eat healthier food," said Carr, who genuinely believes deeply in promoting food security in the region.
"We just need more people growing food," he said. "I'm really excited that more and more farmers have been joining the movement here in the Slocan Valley and Central Kootenays."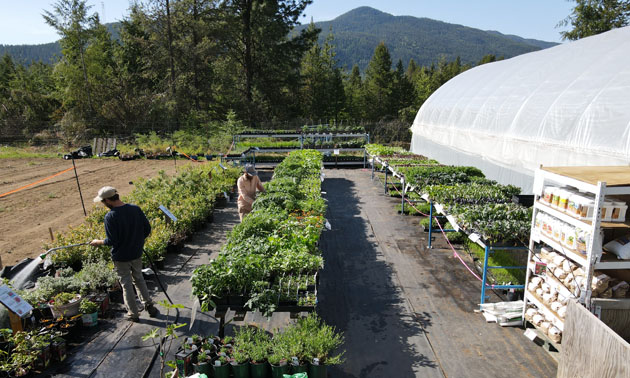 Thanks to Carr's involvement with Young Agrarians and other organizations, he is inspiring the next generation of farmers. - Photo courtesy Linden Lane Farms