Golden embraces development
In matters of economic development, the Town of Golden keeps the needs of the community in mind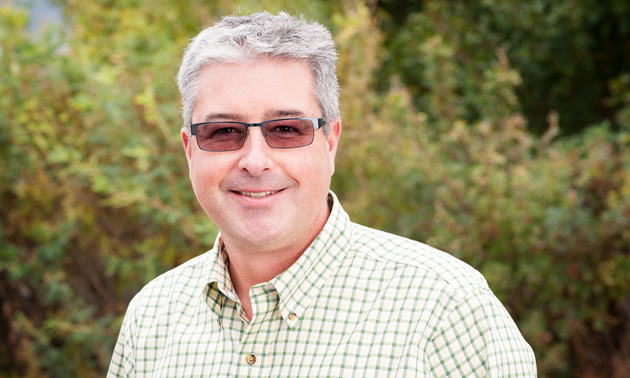 "Change and development are propelled by small engagements," said Jon Wilsgard, CAO of the Town of Golden, B.C. And really, that makes good economic sense. Though a little drama now and then may be exciting, it's not a great foundation for fiscal decisions.
Open to improvement
"In terms of economic development, the business focus tends to take care of itself," Wilsgard said, "so long as the local government and the community position themselves to facilitate development."
Golden currently does not have a dedicated economic development officer. Instead, a number of agencies and organizations—the chamber of commerce, Tourism Golden, the Town of Golden, and the Golden Community Social Services Co-Op—form a loose collaboration to support development. And while the groups collaborate, there's no structure for specific reporting on economic development.
This system has worked well enough, but some might argue that there needs to be a central go-to person or group that can reliably drive, support and advise on economic development matters.
In late March, a group including Golden's town council and Karen Cathcart, Columbia Shuswap Area A director, will spend a day working out possible options for a community economic development strategy.
Forward movement in housing
Projects are in the works to address the housing scarcity in Golden. Prior to 2018, Golden's nine-year annual average value of building permits was under seven million dollars. In 2018, it jumped to almost $15 million, nearly doubling the prior year's value and dwarfing figures from the previous nine years.
With the number of building permits climbing significantly, Golden's tax base is growing at an unprecedented rate. Here are some of the projects that are underway: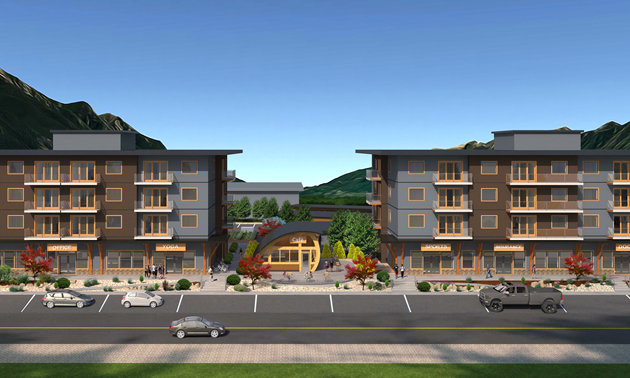 The Bear's Paw subdivision, under developer Gur Manhas, is a 19-lot project that is going through zoning approvals for its next phase.
The Rocky Pointe project is finally bringing multi-family housing to Golden.
The highly anticipated Oso development is positioned to make its development permit application. About half of that development will be long-term rentals and half will be ownership-based.
Canadian Pacific Railway is building an 80-room bunkhouse for its crews, which will answer a little of the local demand for workforce housing. It's a great indicator that CP Rail has confidence in its growth and longevity in Golden.
Community-serving development
"The Town of Golden has engaged some of our major players to keep community development alive and going," Wilsgard said. "We work closely with Tourism Golden to make the best possible use of our Resort Municipality Initiative tax dollars. Our solid, ongoing work with Kicking Horse Culture ensures they can continue to to leverage hundreds of thousands of dollars every year for an impressive array of concerts and community events."
The three-year project to rebuild the protective dike along the Kicking Horse River in the downtown area is underway. This year will see the relocation and burial of the utilities along that stretch—a complex process involving BC Hydro, Telus, Shaw, EastLink and Superior Propane. These agencies will determine how the infrastructure can best be contained within a relatively narrow underground causeway and then reconnected to the buildings.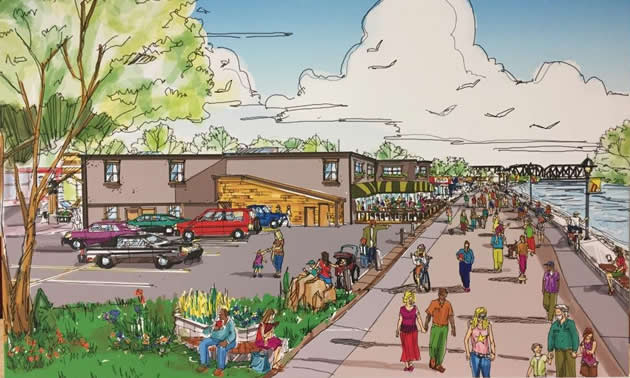 "Once that's done," Wilsgard said, "the stage will be set for building the seawall and the dike next year. Funding for this represents the largest infrastructure grant we've ever gotten as a community."
By the end of 2019, Phase 4 of the Kicking Horse Canyon Highway Project should be starting. This multi-year project—at an estimated cost of $450 million—will have an enormous economic impact on this community. First and foremost, housing will be needed for the hundreds of people who will be working on the project.
Wilsgard fully expects to see options like bunkhouse camps or negotiated long-term stays in hotels, and possibly some short-term residential rentals will be offered as long-term options for these workers.
"These are busy, exciting times for Golden, and they come with some challenges," Wilsgard said. "We have a diversified economy with heavy and light industry and tourism, and what that does is keep Golden honest and neighbourly. Essentially, it facilitates all walks of life to come together."