Trail's 2021 Business Excellence Awards celebrated in style
The 7th annual Trail and District Chamber of Commerce Business Excellence Awards were celebrated on May 14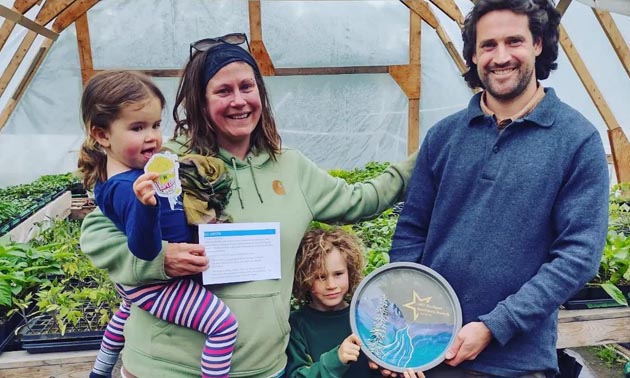 The champagne flowed, the hor d'oeuvres were passed around and much laughter and celebration was to be had at the 7th Annual Trail Business Excellence Awards. Hosted by the Trail and District Chamber of Commerce on May 14, the gala event was held at the beautifully renovated Fruitvale Pavilion.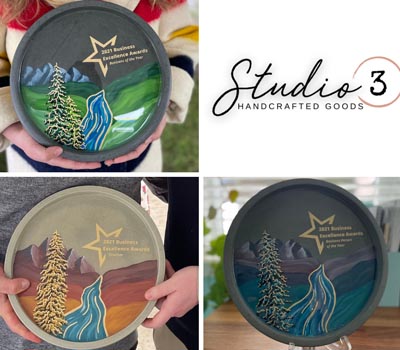 Thanks to the hard work, creativity and team effort of local businesses and event coordinators, the gala celebration was a huge success. The event included a silent auction, cocktails, catered appetizers and live music. This year's Business Excellence Awards were specially designed and beautifully hand-painted by West Kootenay artist and designer Angela Leonard, owner of Studio 3 Handcrafted Goods.
A host of talented and innovative businesses, individuals and organizations were recognized and applauded for their contributions to the region and local communities.
Congratulations to the following 12 recipients of this year's Business Excellence Awards:
Business of the Year: Good Stuff
Good Stuff is a popular gift store located in downtown Trail, owned by Thomas and Ash Hodgson. From candles and crystals to custom furniture, jewelry, stickers, children's clothes and more, there's something for everyone at Good Stuff. The store is also home to the Kootenay Culture merchandise and apparel line, so if you're looking to express your love of the Kootenays, this is the place to do it. Congratulations to the owners and staff of Good Stuff on their Business of the Year award win.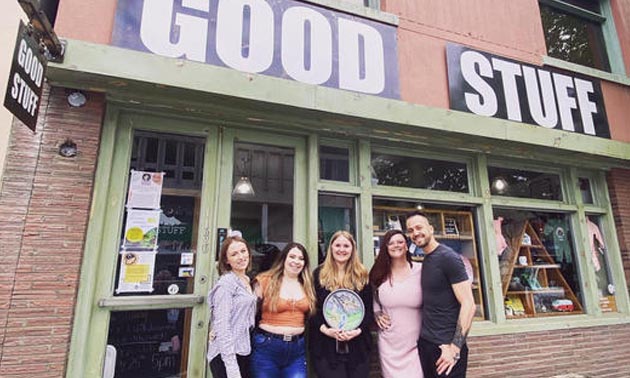 Ona Stanton is the founder and owner of Business Reach Marketing & Social Media, a company that specializes in digital marketing expertise. Stanton, together with her team of professionals, offers three different marketing, management and strategy plans that help small businesses establish and maintain their social media presence.
The Pastry Shop has been baking delectable delicacies for over 40 years. The current owner, Laurel Brost, bought the popular bakery in 2008. Every item on the menu—from beautifully creative, decorated sugar cookies to butterhorns, danishes and sausage rolls—is made from scratch, using real ingredients and no preservatives. The bakery offers custom-made specialty cakes for all occasions, including giant donut cakes, and is known for having the best buns in town.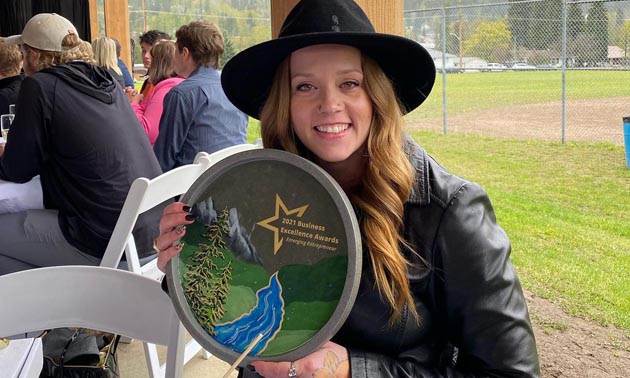 Emerging Entrepreneur Award: Leanne Hawkins – Kootenay Made Co.
Ever since elementary school, Leanne Hawkins wanted to be a shop owner. Her long-held dream came true in 2021 with the opening of Kootenay Made Co., a brick-and-mortar shop offering a curated collection of locally made items from more than 90 vendors. A born-and-bred Kootenay girl, Hawkins felt a deep desire to support and showcase the many skilled artisans, craftspeople and creators who call the region home. Kootenay Made Co. is located in the Waneta Plaza Mall in Trail. We recently chatted with Hawkins about her business and she was happy to share her story—read it here.
Excellence Under 40 Award: Charlotte Truant – Lota Love Photography
By following her passion, Charlotte Truant—self-taught photographer and owner of Lota Love Photography—has developed a stellar reputation for evocative and expressive photography. She specializes in capturing the special, everyday moments of our lives and memorable events shared with loved ones. Lota Love Photography offers high-quality photography services for weddings, families and maternity/newborn sessions.
Nurturing a healthy environment—full of biodiversity—is at the heart of the Happy Hills Farm mantra. This year-round sustainable farm in Rossland focuses on soil health and regeneration and utilizes fully organic growing practices. Happy Hills Farm is family-run and dedicated to providing healthy, nutritious and nutrient-dense food for their community and local businesses. No stranger to recognition for their environmental initiatives, Happy Hills Farm also won the Go Green Award from the Trail & District Chamber of Commerce in 2019. Read our story about this award-winning farm.
Known for impeccable service, the Bella Tire Service Centre has been a fixture in Trail since it first opened in 1956. Their services include tune-ups, oil changes, computer diagnostics, brake repair and much more. Along with their dedication to providing a knowledgeable and honest transaction for each customer that walks through the door, the team at Bella Tire Service Centre are also huge supporters of the local community.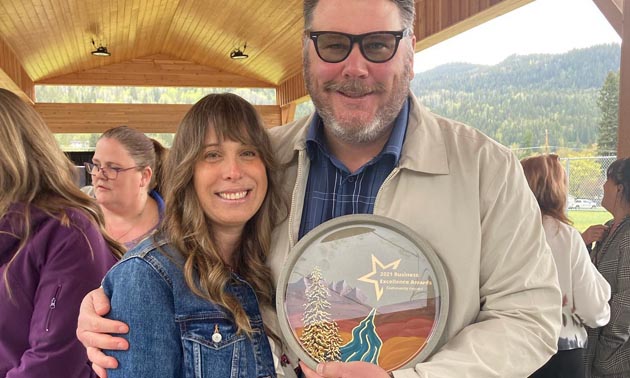 Good vibes, happy times, live music and friends—that's what the Rossland Beer Company is all about. This craft beer brewery is no stranger to kudos and has won multiple awards for their outstanding beers. A commitment to local fundraisers and charity initiatives makes the Rossland Beer Company a true community partner. 2021 marks the 10th anniversary of this popular watering hole and hangout.
Winner of this year's Professional Service Award, Thea Hanson prides herself on providing a 'client-first' approach to her real estate business. She brings a high level of integrity and professionalism to her job and makes her clients feel valued and appreciated. As a realtor in the region for over 13 years, Thea Hanson is ranked in the top two per cent of realtors registered with the Kootenay Association of Realtors.
Kristin McConkey is the owner of Coast 2 Coast Clothing Co., a children's boutique clothing store. The store features the largest selection of kids' footwear in the West Kootenays, along with a large range of brand-name clothing, swimwear, backpacks, accessories and even toys. Congratulations to the team at Coast 2 Coast Clothing Co.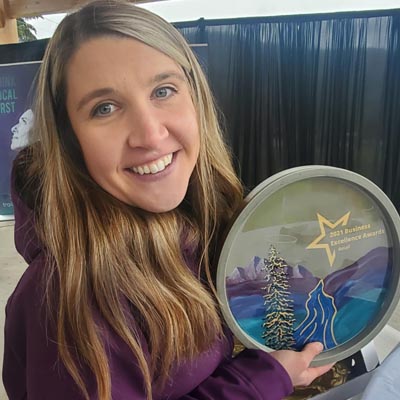 Trail's volunteer-run community market offers everything from fresh seasonal fruit and vegetables to craft liqueurs, eclectic jewelry and handmade clothing. The Trail incrEDIBLE Farmers Market is held along the 1300 & 1400 blocks of Esplanade Avenue in the downtown core of the city. The market runs on a bi-weekly basis from May until October.
Congratulations to the Trail Smoke Eaters Junior A hockey team on winning this year's Tourism Award. The Cominco Arena in Trail is always full of hockey fans—young and old—all out cheering for these homegrown heroes. The team is also a supportive force behind many fundraisers and initiatives in the community.