Sustainability—and beer—were on tap at the Trail chamber Business Excellence Awards
Many well-known businesses and some newer ones were given accolades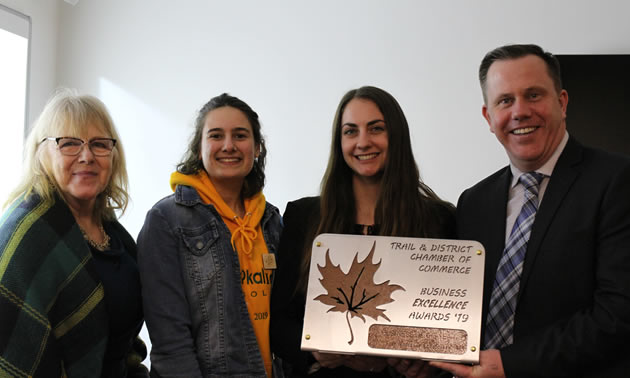 The Trail and District Chamber of Commerce handed out 11 awards at its annual Business Excellence Awards ceremony on October 19, 2019.
The celebration had a decidedly "green" tinge to it: several of the award winners were recognized for their sustainability efforts.
Congratulations to the following winners:
Business Person of the Year: Danny Ferraro (Ferraro Foods)
No one is surprised when Danny Ferraro or Ferraro Foods wins an award. Their name is synonymous with great service at great stores. People come from far away to shop at their stores in Trail and Rossland.
This year, Ferraro Foods deserves accolades for eliminating plastic bags at their checkouts. Instead of shoppers being asked "paper or plastic?" those who don't bring in their own bags will be asked, "paper or box?" Shoppers will be charged 10 cents for each paper bag; the cardboard boxes come at no cost.
Other eco-friendly changes include compostable bags in the produce and bakery departments as well as the elimination of Styrofoam trays in the meat departments, which have been replaced with compostable paper or clear recyclable plastic.
Employer of the Year: Royal Theatre
The Royal Theatre was built in 1927 and is locally owned and operated by Lisa and Jason Milne, who have "taken pride in bringing this old gal back to her former glory." The theatre is now a clean, safe place to work and visit.
Emerging Entrepreneur Award: Danielle Abenante (Sprinkles + Rose Homebakes)
Danielle Abenante loves art and she loves cake. She combined her two hobbies into a home-based business, Sprinkles + Rose Homebakes. She bakes cakes, cupcakes and other special sweets.
Excellence Under 40 Award: Charlotte Truant (Lota Love Photography)
Charlotte Truant enjoys capturing her clients' special moments with photography. With two young daughters and her high-school-sweetheart husband, she can combine work with family.
"Life is so precious, and time is fleeting," she said. "Images are a snippet of these moments in your life."
Tourism Award: Trail Beer Refinery
Described as a local sensation, the Trail Beer Refinery boasts craft beer along with great food. Trail Ale and Silver City Lager are always on tap, with rotating smaller batch beers. But what makes the place unique is indoor bocce to round out a great time with family and friends.
Go Green Award: Happy Hills Farm
The Happy Hills Farm in Rossland certainly deserves to win the Go Green Award. The philosophy of this family farm is to use regenerative farming practices that focus on the care of the land and people. Farmers/owners Dan and Miche grow vegetables, microgreens and heritage chickens.
Community Impact Award: Ferraro Foods
Customer Service Award: Royal Theatre
Professional Service Award: Movin' Mountains Therapy Services
Movin' Mountains Therapy Services provides therapy for children and adults of all ages and abilities. Therapy services include comprehensive evaluations and customized therapy programs. The diverse and talented team are highly recommended by their clients.
Retail Award: Country Roads General Store
Located in Fruitvale, Country Roads General Store offers a large range of one-of-a-kind gifts and decor for homes and offices as well as premium livestock and pet food. Walking in the store is a sensory experience of colours, textures and shapes—the display shelves are loaded.
Business of the Year: West Kootenay EcoSociety
Started in Nelson 25 years ago, the West Kootenay EcoSociety expanded and officially opened its office in Trail in August. The non-profit organization is heavily involved in building sustainable and healthy communities, including food sustainability and conservation work. Their 100% Renewable Kootenays is a successful and growing program that promotes 100 per cent renewable energy by 2050.