John Walker on the Waneta Expansion Project
Kootenay Business magazine talks to the vice-president of Fortis Inc. about the Waneta Expansion Project
by Kirsten Armleder and Keith Powell
—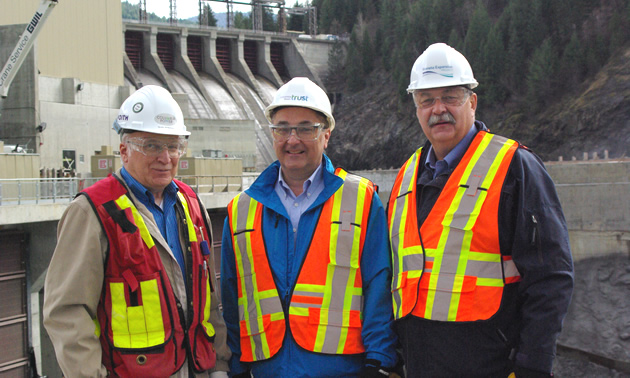 On a recent tour of the Waneta Expansion Project south of Trail, Kootenay Business publisher, Keith Powell, sat down with John Walker—who is the executive vice-president of Western Canadian Operations for Fortis Inc.—to talk about his company's involvement in the $900-million project. Fortis Inc. is the majority owner in the Waneta Expansion Project, and its subsidiary, FortisBC, is responsible for operating the new facility.
Tell me about your company's or organization's involvement in the project?
FortisBC is a regulated utility and the primary power provider for the West Kootenay region, and we also own and operate the natural gas division that serves British Columbia. Fortis Inc. is a 51 per cent partner in the Waneta Project, along with our other two partners, Columbia Basin Trust and Columbia Power Corporation.
Why did you see this as a good investment for your company or organization?
Fortis sees this project as providing a good return for our company and its shareholders. The project and our 51 per cent ownership fits nicely with our core business strategy of power generation and distribution. The development of a project like the Waneta project is a unique opportunity and works well with our power generation strategy. Fortis has the responsibility to operate the Waneta dam power generation once the project is fully complete.
What were some of the highlights of your involvement?
The Waneta project was a massive and complex undertaking, which has been underway for over four years. We are very pleased with how all the contractors, sub-contractors and work crews have worked together to bring this project to successful completion. It has had an outstanding safety record and we have done some innovative things to lessen any impact on fish habitat or the environment.
What kind of legacy does a project like this create?
First of all, the communities throughout the West Kootenay have benefited greatly economically from this project. And through our partnership with Columbia Power Corporation and the Columbia Basin Trust, the entire Kootenay region has benefited and will continue to benefit for many years. There aren't many projects of this significance or scale happening anywhere in North America or in the world for that matter. This project is unique and a good one for our company to be involved in. Fortis is pleased to play such a key role in the project's success.