A powerful source of pride
What started as a giant hole in the ground is now a state-of-the-art hydropower plant capable of running 60,000 homes annually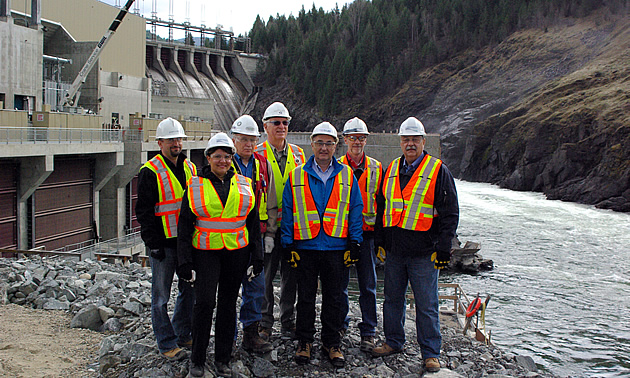 One of the largest infrastructure projects in British Columbia is now complete. On April 2, 2015, the $900-million Waneta Expansion Project started generating clean, renewable power from its location on the Pend d'Oreille River south of Trail.
The project, which began in October 2010, saw the design and construction of a second powerhouse directly downstream from the Waneta Dam. It shares the existing hydraulic head and utilizes water that would otherwise pass over the dam's spillway.
Building it was no easy task. In addition to the powerhouse itself, two underground tunnels (each 10.5 metres in diameter) that carry water from the headpond to the turbines were constructed. A 10-kilometre transmission line running from Waneta to BC Hydro's Selkirk Substation was erected as well. Plus, engineers had to design and install special exclusion gates at the spot where the water exits the powerhouse, due to the area being a crucial breeding habitat for the endangered white sturgeon.
It took over three million man-hours. Incredibly, there were no major accidents or environmental incidents and it was completed six weeks ahead of schedule, which means the facility will be able to harness energy from this year's spring runoff.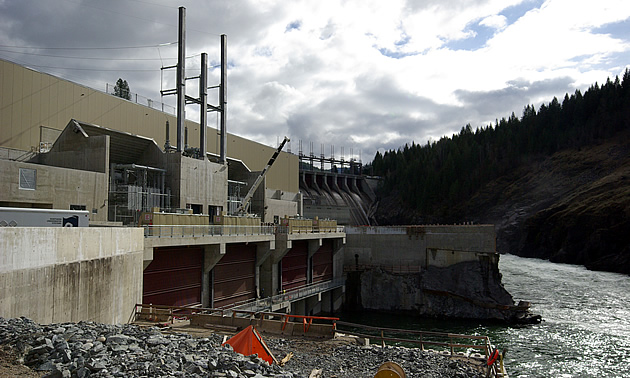 Audrey Repin, spokesperson for the Waneta Expansion Project and the director of stakeholder and external relations for Columbia Power Corporation, couldn't be happier.
"This is the biggest hydroelectric project in the Kootenays right now," said Repin. "When you see it completed six weeks ahead of schedule and on budget, that's a pride in itself."
Repin is also proud of the fact that the workers, which included First Nations, were able to gain skills that will help in future employment.
"Overall, close to 1,500 workers have come and gone on this project," said Repin. "People have been able to work in the trades and we're really proud of our involvement with the First Nations communities, the Ktunaxa Nation and the Okanagan Nation."
Repin's sentiments are echoed by Wally Penner, who is the regional project manager for SNC-Lavalin (the design-build prime contractor on the Waneta expansion).
"On this project alone, there were 194 apprentices from 13 trades that got skills training," said Penner. "And during the peak, we had over 50 apprentices on site, so this has just been great."
It takes a team
The majority of those working on the Waneta expansion were Kootenay residents, and the management team made a concerted effort to use local contractors whenever possible.
The public was not kept in the dark, either. A Community Impact Management Committee that included residents, mayors, landowners, key stakeholders and First Nations met regularly.
"Every month, the community came out, met and had a tour of the project, and any issues (that came up) were dealt with on the front end," said Repin.
Weekly updates were also sent out to each committee member.
"Everybody was very intimate with the project," said Repin.
From the workers to the stakeholders, Repin believes it was the people who made the Waneta expansion such a success.
"To make a project like this successful, it takes many, many, many hands and that's why they say, 'Many hands make work light,' " she said. "So I think this project is a success because of all those multiple hands of involvement."
Penner couldn't agree more, but he said it starts with having a solid plan and a good management team to implement it.
"We had one of the best management teams I've ever worked with and some of the best contractors, many of them local." said Penner.
Who is involved?
There are three major players in the Waneta Expansion Project: Fortis Inc., Columbia Power and Columbia Basin Trust (CBT).
Columbia Power, which is owned and controlled by the Province of British Columbia, oversaw the design and construction, but now that the facility has been turned over to the main owner, Fortis Inc., it is being operated by FortisBC (a subsidiary of Fortis Inc.). There are still several people on site, but eventually, there will only be four who, in reality, don't even need to be there at all.
Dave Cochrane, operations liasion at FortisBC for the Waneta expansion, explained why.
"Essentially, this plant is built not to be manned," said Cochrane. "So during day shift, there is going to be a complement of, I think, four guys and normally, they will have nothing to do with actually running the units. So they will be working on things like preventative maintenance."
The facility is controlled from the FortisBC system control centre in Warfield. Just about everything is computerized. Even the massive turbines can be turned on and off with a couple clicks of a mouse. It is a finely tuned machine capable of generating 335 megawatts of power (enough to run 60,000 homes annually). BC Hydro is purchasing the power from the owners and long-term agreements are in place for it to continue doing so.
With Columbia Power and CBT as part-owners, a great deal of the revenue generated from the sale of power will go back to the Basin, which, Repin said, will benefit all residents living in the region.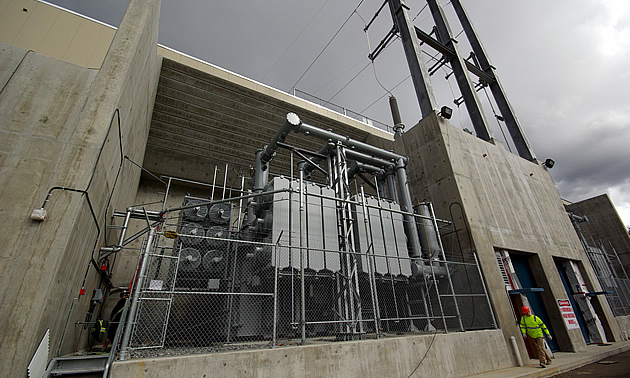 But the project has already brought positive benefits to the Kootenays. More than $300 million has been injected back into the local economy through the purchase of goods and services and though the payment of wages.
A lasting legacy
The completion of the Waneta Expansion Project signifies the end to a 20-year mandate on the part of Columbia Power and CBT to advance hydroelectric power projects in the Kootenays. It began with the Arrow Lakes Generating Station (completed in 2002) near Castlegar. The Brilliant Expansion Generating Station (completed in 2007) was next, and then Waneta.
Repin said a lot has been learned from these three projects and she feels that Columbia Power and CBT have created a legacy that will last for generations.
"I think now we are kind of at our prime," said Repin. "We've learned so much over the 20 years and have developed some really good processes and gleaned a lot from challenges on other projects and we are looking for a few more larger projects and that would be phenomenal. It's been very exciting."