Top 10 winter activities in the Kootenay Rockies
This mountainous region of B.C. is inviting to winter recreation enthusiasts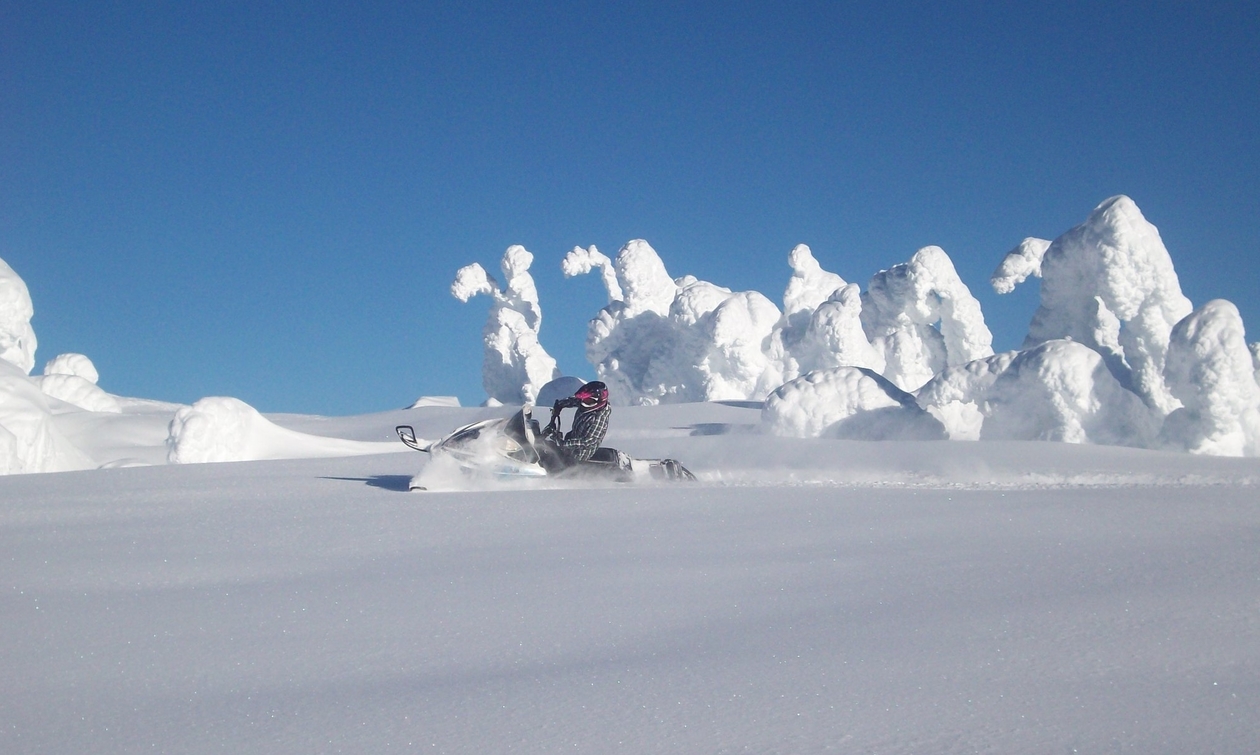 People are drawn to the Kootenay Rockies for a variety of reasons, such as unmatched business opportunities, a lower cost of living and healthier lifestyle choices.
However, it's when the snow starts falling that this region really shines. A Kootenay winter will inspire you to get outside and be active - exploring the vast forests, mountains and meadows. There are also tour companies such as Between a Lake and a High Place in Kaslo, which take groups out for season-specific experiences.
These are some of the top winter activities you can try here:
1. Snowmobiling for pros and beginners alike
Sledders love the Kootenay Rockies, due to the ample snowfall and well-groomed trails found here.
While there is mountain terrain steep enough to challenge any sledder, you can also find easy trails that are suited to family riding. If you're planning a sledding trip, be sure to contact the local snowmobile club to get insider information on the best places to go.
Find out more about snowmobiling in the Kootenay Rockies.
2. Hit the slopes
Nordic and alpine skiing are popular in the Kootenays, and some of the world's best ski resorts can be found here.
Revelstoke Mountain Resort, Kicking Horse Mountain Resort (in Golden, B.C.) and Panorama Mountain Resort are three of the largest, but ski hills such as the Kimberley Alpine Resort and Rossland's Red Mountain Resort are also seasonal favourites.
For more details, take a look at this list of the Top 10 ski resorts in the Kootenay Rockies.
3. Take an aerial tour
Imagine the rush of seeing B.C.'s wild beauty from high above.
Several companies offer aerial tours in the Kootenays, allowing guests to truly take it all in, soaring over the trails they love to play on.
4. Try your hand at snowshoeing
There are few things more peaceful than a snowshoeing excursion through the woods.
You can explore on your own or get an expert to take you on a tour of the area. There are several reputable snowshoeing guides in the Kootenay Rockies.
5. Snowboarding never went out of style
Skiing and sledding may be more common, but snowboarding is also a beloved activity at the local resorts.
Check into the ski hill you're visiting to see if they have a snowboarding run and/or rentals available.
6. Heli-skiing opportunities galore
This part of B.C. is known for its heli-skiing - and there are a few notable companies offering the experience.
Expert guides can fly you out to remote, picturesque skiing spots and let you immerse yourself in epic snow conditions before whisking you back to the lodge for a meal and more relaxation.
7. Test your skill at ice skating
Ice skating is another fun way to be active in winter, and the Kootenay region has indoor rinks and outdoor areas that are suitable for it.
Contact the local visitor's centre to find out where to go skating (some mountain lakes are safe for skating on during the coldest months, but always check ahead), and where to get rentals if needed.
8. Give fat biking a shot
If you love to ride mountain bikes in the summer, consider trying out a fat bike in the winter.
This newer sport is gaining traction, so to speak, and some resorts now have dedicated fat biking trails (Nipika Mountain Resort in Radium Hot Springs, for example).
9. Make your rounds at the Kootenay hot springs
Winter activities don't have to leave you cold - at least not for long. There are luxurious hot springs where you can soak in steaming mineral water while the snowflakes fall.
Check out Ainsworth Hot Springs, Fairmont Hot Springs Resort or Radium Hot Springs for a rejuvenating escape.
10. Wrap it all up with some indoor entertainment
Once you've explored the terrain, soaked in the hot pools and witnessed the majesty of B.C.'s wilderness, you might think you've seen it all - but the excitement doesn't have to end there.
Spend your evenings visiting museums and galleries, taking brewery and winery tours, sampling the famous Kootenay cuisine and pampering yourself at the resort spas.