Take a 2018 swing through the Kootenays + the Crowsnest Pass
Pack up your clubs and take a swing through the Kootenay Rockies region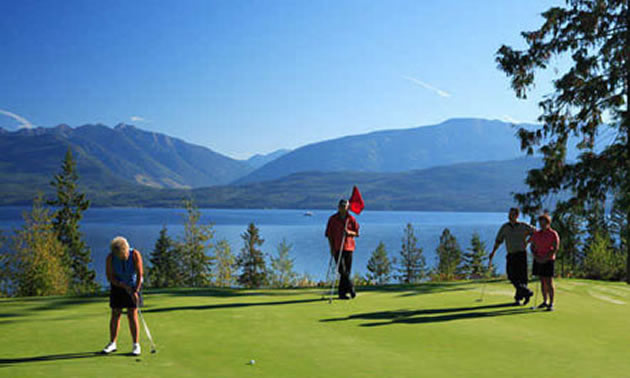 Dozens upon dozens of golf courses can be found dotting the rugged landscape of the Kootenays. They range from 9-hole hidden gems to challenging championship mountain tracts. Whether you are playing a nine-hole facility, a municipal course or one of the many top-tier championship courses in the Kootenay region — you are guaranteed to enjoy a great golf experience.
More and more local and visiting golfers are embarking on a golfing circle tour through the Kootenays, making stops at their favourite courses all along the way. Avid golfers often play half a dozen courses over the span of a long weekend or during a few extra vacation days. Check out any or all of these fine golf courses this spring, summer and into the fall – make 2018 your best golf season ever.
Be sure to relax and enjoy the mountain vistas, the beautifully maintained fairways courses and greens, the friendly staff and, of course, the incredible game of golf!
Tournament play is always welcome: These popular Kootenay golf courses welcome corporate events, charity and fundraising tournaments, and large golf group bookings. They excel at making sure that everyone who books a tournament or large group has a fun, inspiring, team-building event. Please contact each individual course for tournament booking details and options. Bring your tournament to one of these courses – and you'll be warmly welcomed.
Pack up your clubs and take a swing through the Kootenay Rockies region — with the only required stop being the next golf course of your choice. We have selected six courses to profile plus one in the neighbouring Crowsnest Pass.
Balfour Golf Course — Balfour, B.C.
The Balfour Golf Course is billed as one of nature's most scenic courses – created by famed golf designer Les Furber. It is literally carved out of the forested upland above Kootenay Lake. Balfour's unique 18-hole layout offers well-maintained fairways and undulating greens – challenging every skill level. A warm and welcoming atmosphere greets golfers upon arrival and when your round is wrapped, scores are added and refreshments are ordered – then it's time to savour an unforgettable golf experience.
602 Queens Bay Road
Balfour, B.C.
Golf Shop (250) 229-5655
Website: www.golfbalfour.com/
Castlegar Golf Course — Castlegar, B.C.
Castlegar Golf Course, located in the heart of the West Kootenay, is rated four stars by Golf Digest. It has been singled out by major golfing publications as among the best golf courses to play in Canada. They consistently have been praised for providing outstanding value with a remarkable golfing experience. The Castlegar Golf Club is a championship 18 hole, semi-private golf course situated on the edge of Castlegar, above the majestic Columbia River.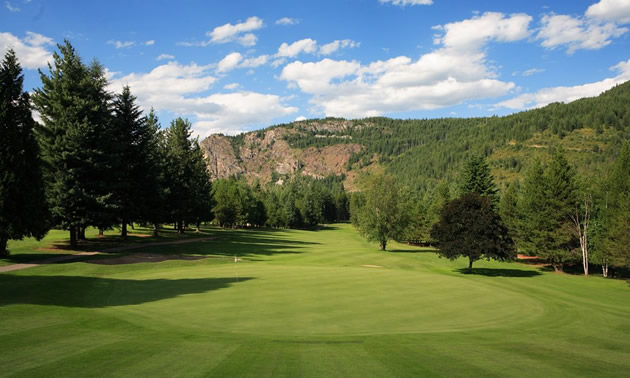 1602 Aaron Rd
Castlegar, B.C.
(250) 365-5006
Website: www.golfcastlegar.com/
Redstone Golf Resort — Rossland, B.C.
As soon as golfers arrive on the first tee at Redstone, they understand that Redstone is a mountain golf course — it's a superb mountain golf course. The West Kootenay is a big part of what makes golf in Canada special and golfing at Redstone is more than the scenery as the first ever "Les Furber Signature Course" from the renowned Canadian architect. The friendly folks at Redstone often pose the question: "Is Redstone the most beautiful golf course in Canada?" Visit and find out for yourself.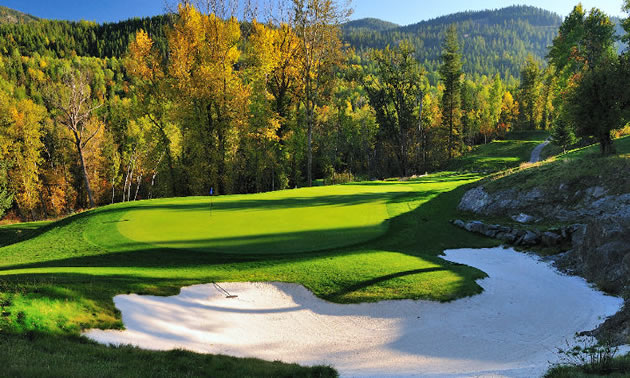 Redstone Drive, Rossland, B.C.
Call us toll free at 1-877-362-4555 or local 250-362-9141
Website: www.redstoneresort.com/
Golden Golf Club — Golden, B.C.
The Golden Golf Club is in a natural setting with no residences or boundary markers complimented with a spectacular mountain vista from every hole. Truly one of the finest places to play golf in the Canadian Rockies. You are invited to play on this award-winning golf course which is commonly referred to as a cut above the rest. Enjoy all 18 championship holes, friendly atmosphere and a wide variety of holes for every skill level. Golfers can take advantage of special deals and packages offered such as Alberta Days, All-You-Can-Play-Everyday, Family Days, Thursday Titleist ProV1 Promotion, and various other packages.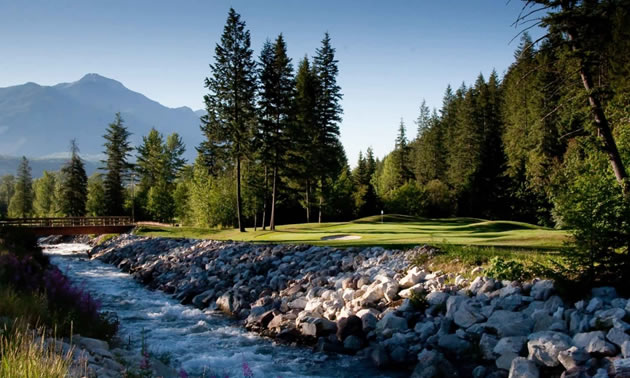 576 Golf Course Drive
Golden, BC V0A 1H0
(250) 344-2700
Website: www.golfgolden.com/
Eagle Ranch Golf Resort — Invermere
Elevate your game at Eagle Ranch Resort in Invermere. This spectacular golf course is located amid the rugged, unspoiled splendour of BC's Columbia Valley. The resort's centrepiece: eighteen magical holes of golf perched along ancient bluffs overlooking the Columbia River will challenge golfers of all skill levels. Eagle Ranch is located in the 'sunbelt' of the Canadian Rockies, enjoying mild temperatures that offer an early start and a late end to the golf season. At 6,646-yards, no other golf course has so brilliantly embraced its enchanting canyon setting as Eagle Ranch in the Columbia Valley.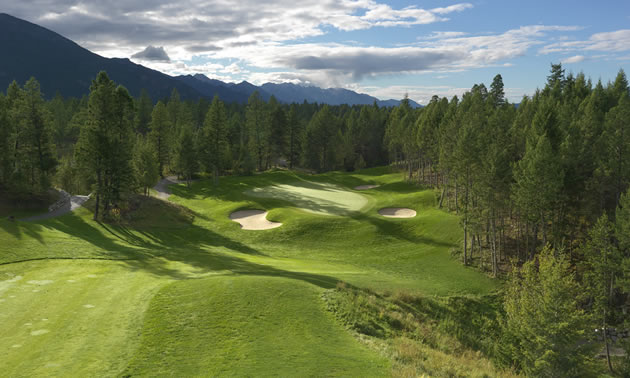 9581 Eagle Ranch Trail
Invermere, B.C.
250 342-0562
Website: www.eagleranchresort.com/
Sparwood Golf Club — Sparwood, B.C.
The Sparwood Golf Club is the easternmost golf course in British Columbia and is easily located off Highway #3, opposite the entrance to Sparwood and the "World's Largest Truck". The Sparwood Golf Club is a mountain golf course with rolling fairways and captivating views in every direction. The fairways are surrounded by tall pine and spruce forests and are surprisingly open. Warm up at the driving range, enjoy a mountain golf experience and relax on the deck of the licensed club house afterwards.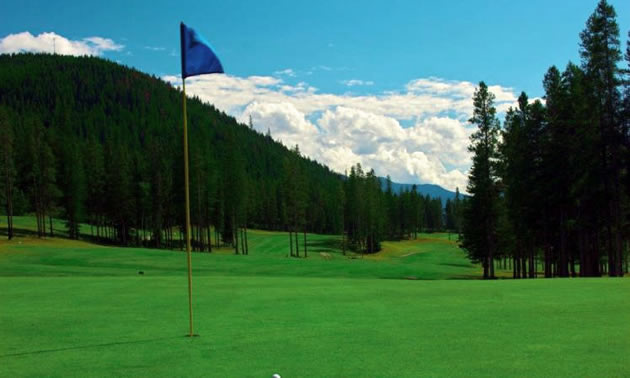 2002 Highway 3
Sparwood, BC
Clubhouse/Tee Times: (250) 425-2612
Website: www.golfsparwood.ca/
Crowsnest Pass Golf Course — Blairmore, Alberta
Take a bit of a detour from the Kootenays — visit the nearby and beautiful Crowsnest Pass, too. The Crowsnest Pass Golf Course is one of the most spectacular courses in southwestern Alberta. A true hidden gem according to many local and visiting golfers. It is located right in the heart of the Crowsnest Pass, with spectacular mountain views on all sides. The 18-hole golf course is a public course that opened in 1918. Crowsnest Pass Golf Course measures 6814 yards from the longest tees and has a slope rating of 134 and a 73 USGA rating. The course features 4 sets of tees for different skill levels.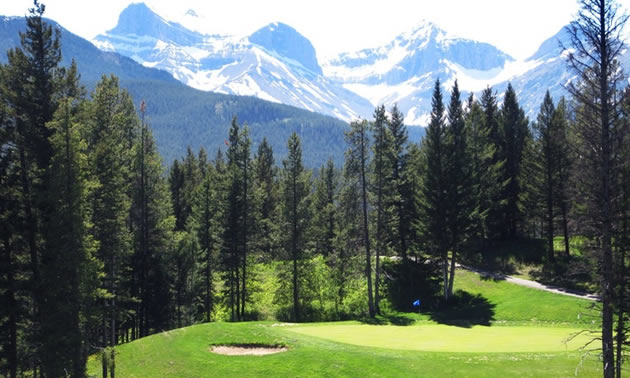 10701 24th Avenue
Blairmore, AB
(403) 562-2776
Website: www.crowsnestpassgolf.com/