How the Kootenay tech community is thriving (and how you can too)
Which Kootenay companies are using new technology for their businesses?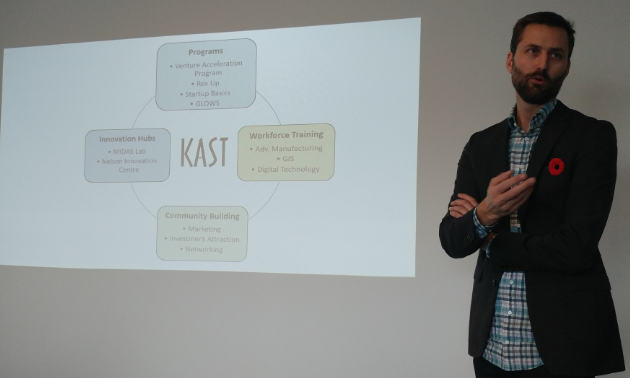 Technological advancements are happening at a rapid rate. It can be tricky to avoid falling behind while the tech train zips by at all-time high speeds. Fortunately, Kootenay companies like KAST (Kootenay Association for Science and Technology) are here to help. Cam Whitehead, executive director for KAST, has been travelling across the Kootenays in an effort to inform Kootenay entrepreneurs about the goings on in the region's tech industry.
"We're interested in strong communities through technology development," said Whitehead. "Diversification, strong, high-paying, clean, sustainable, modern jobs for Kootenay people. We do that through technology and innovation."
According to Whitehead, getting involved with the tech sector isn't as daunting as some might expect.
"Tech has a low-level entry," he said. "Boot camp courses are available. These programs are 95 per cent virtual and remote. As long as you have an internet connection, you can take advantage of these programs.
"You can take expertise from pretty much any field of tech, add some innovation, an entrepreneurial mindset and then create a business and start hiring."
Entrepreneurs looking to get into tech as a career don't have to do it on their own. KAST has a variety of means to help enterprisers get into the game. KAST's Venture Acceleration Program sees mentors helping out in community groups. The Nelson Innovation Centre is almost complete. The Ground Floor Coworking Space is getting a mini-fabrication lab in 2020.
"The Midas lab is a great place to learn to build stuff," said Whitehead. "We teach 3-D modelling and using the laser cutter to cut through wood and plastic. We have a full metal shop. We have robotics and automation technology as well."
Exceptional examples
Take a look at these Kootenay businesses that have been partnering with KAST in a variety of innovative ways:
Kootenay Mountain Culture. "What's a magazine doing in an innovation hub?" said Whitehead. "They're looking at VR in a number of their productions, doing online customer acquisition and doing cool stuff in the digital media space."
Lillie and Cohoe, a hat company in Nelson. "Liz Cohoe has a business mentor working with her to prepare her business for succession through our Venture Acceleration Program," said Whitehead.
Nelson Naturals, a toothpaste company in Nelson. "It's classified as clean tech because they're removing plastic from the whole production line," Whitehead said. "It's a breakable, chewable toothpaste, which is usable in places without water."
CHAI: Canadian Health Advocates Incorporated. "It was started by a nurse who, for 25 years, has wanted to provide patient advocacy," Whitehead said. "She saw time and time again that the system wasn't working for patients so she's creating an online platform to provide patient advocacy to connect people who need it with those who can provide it."